The iPhone 4S looks like Apple's catalyst to regain market share in the face of Android's dominance. Out of those who bought a new smartphone in December, only a minority (2.4 percent) chose Android over the iPhone, according to the latest Nielsen data, helping Apple close the gap on the Android army.
The survey shows 44.5 percent of people who bought a smartphone in December chose an iPhone, almost twice as many as in October. Android declined from 61.6 percent in October to 46.9 percent in December, bringing Google's mobile platform almost on a tie with Apple's. Android, however, continues to lead among all U.S. smartphone users with 46.3 percent.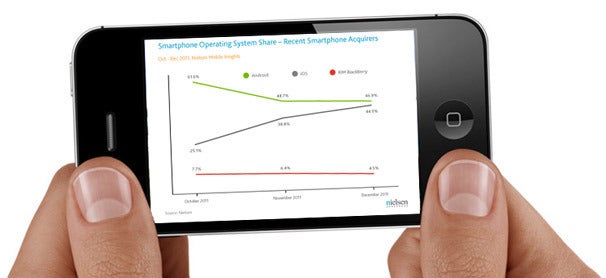 The Nielsen study says the iPhone 4S was the choice of 57 percent of the new iPhone owners in December, as the device had "enormous impact on the proportion of smartphone owners who chose an Apple iPhone." The iPhone's growth seems to be a detriment to both Android and Research In Motion's BlackBerry, which declined among new smartphone purchases from 7.7 percent in October to 4.5 percent in December.
The data from Nielsen corroborates NPD's findings from last week, which showed that Apple's market share rose from 26 percent in the third quarter to 43 percent in October and November while Android's went down from 60 percent to 47 percent. According to NPD's list, the three best-selling smartphones were the iPhone 4S, iPhone 4 and iPhone 3GS, noting that Apple's small number of handsets managed to beat scores of Android smartphones.
One encouraging stat from Nielsen is that almost half (46 percent) of U.S. mobile consumers had smartphones as of December 2011, and that figure is growing quickly, so in 2012, as more people buy a smartphone, the battle between iPhone and Android is set to get even hotter.
Follow Daniel Ionescu and Today @ PCWorld on Twitter