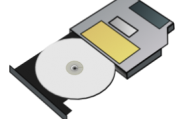 Recently I became the mostly happy owner of an HP Pavilion dm1z. I say "mostly happy" because I wasn't thrilled with its performance. To give the system a boost, I decided to swap the pokey 5,200-rpm hard drive with a speedy Solid State Drive (SSD).
The Samsung SSD upgrade kit I bought came with Norton Ghost 15–a utility that would copy the entire contents of my existing hard drive to the new drive–on CD. But the Pavilion, like so many ultrabooks, ultraportables, and other ultra-compact laptops, has no CD drive. How was I supposed to install Ghost?
A friend of mine had a similar problem with some new drive-less systems he'd purchased. He wanted to install his licensed, disc-based copies of Microsoft Office, but couldn't.
This begs the question: If your PC lacks an optical drive, how can you install software that's stored on a CD or DVD?
You have two options. First, you can buy or borrow an external drive. A quick check of Ebay reveals tons of USB DVD burners selling for $20-40. Might be a handy item to have on hand.
Second, try downloading your software instead. When I checked Samsung's support page for my SSD kit, I found not only manuals and drivers, but also Norton Ghost 15.
I downloaded it, installed it, then activated it using the license key that came with the actual disc.
You can do likewise with Microsoft Office: just download the trial version that matches the version you already own, then activate it using your product key. (This gets a little trickier with older versions of Office, as Microsoft currently offers only the 2010 edition for download. You might need to hit up some torrent sites to find older trials.)
This method should work for the vast majority of other software as well. Usually you can download a trial or demo version and then unlock it with your license key. And the added bonus is you'll have the latest updates right from the get-go.
Optical drive, shmoptical drive. Who needs it?
Contributing Editor Rick Broida writes about business and consumer technology. Ask for help with your PC hassles at hasslefree@pcworld.com, or try the treasure trove of helpful folks in the PC World Community Forums. Sign up to have the Hassle-Free PC newsletter e-mailed to you each week.