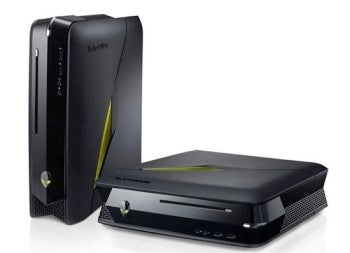 Alienware, Dell's gaming computer brand, announced Wednesday a new compact gaming desktop with a powerful discrete graphics card and a choice of Intel Core processors.
The sleek X51 unit with a matte "stealth" black finish tips the scales at just over 12 pounds, or about the weight of typical desktop replacement notebook. However, it's smaller than one of those dreadnaughts. It's roughly a square foot in size—13.5 inches high by 12.5 deep and a width of 3.74 inches.
Prices for the X51 range from $699 to $1149, depending on processor, graphics card and memory configurations. At the $699 end of the range, for example, the X51 has an Intel Core i3-2120 processor with a 3MB cache and running at 3.3GHz, 1GB GDDR5 Nvidia GeForce GT 545 graphics and 4GB of RAM. That model, according to Alienware, is capable of playing Battlefield 3 at a frame rate of 34fps with high settings and 1080p resolution.
By contrast, the $1149 model has Intel Core i7 processor with an 8MB cache and running at 3.4GHz, 1GB GDDR5 Nvidia GeForce GT 555 graphics and 8GB of RAM.
All models have a 1TB 7200RPM hard drive, WiFi support and include 64-bit Windows 7. None of the models include a keyboard, mouse or monitor, but those are items that most gamers customize, anyway.
The X51 also has six USB 2.0 ports—two in front and four at the rear—and two high speed USB 3.0 ports, also at the rear, and has two power supply options: 240 and 330 watts.
The unit also has an HDMI 1.4 port for connecting gaming hardware or a 3D TV to the computer, but 3D may require some extras like 120Hz 3D capable LCD display or compatible 3D TV and the NVIDIA 3D Vision Kit. Blu-ray and HD TV 1080p support is optional, too.
Alienware has also designed the X51 for easy access to key components inside the box, making it easy to swap the desktop's CPU, graphics card, hard drive and memory.
Follow freelance technology writer John P. Mello Jr. and Today@PCWorld on Twitter.