At a Glance
Expert's Rating
Pros
Attractive interface
Can assign and share tasks
Our Verdict
Astrid Tasks is a social to-do list app that makes it fun to get things done.
I love making lists and I love to delegate. That's why I really like Astrid Tasks. This free Chrome app (which is also available at Astrid.com when using another browser or in a mobile app for iOS and Android devices) lets me create to-do lists and share their contents with anyone who can help me get things done.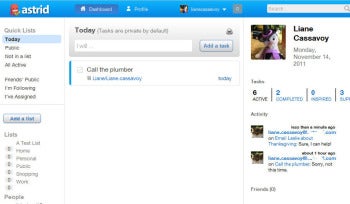 Astrid is free to use, and you can sign up by connecting your Google or Facebook account. If you don't have either one, you can create a free Astrid account.) Once you're logged in, you see Astrid's friendly interface, prompting you to create a task. Once you do so, you can edit its details, including the due date and importance. All of these options are available on most competitors, including the popular service Remember the Milk. Though I have to say I do prefer Astrid's clean, colorful look to RTM's text-heavy interface.
Where Astrid really differs from RTM is in its sharing and social features. You can share tasks with anyone by entering an email address; the recipient gets a friendly message asking for their help. If they can't comply, they can decline the task. In that case, Astrid knows to reassign it to the creator. RTM does let you share tasks, but only with other RTM users.
Astrid's social features aren't just for delegating tasks–you also can use the service to seek encouragement or ask for advice from others. When you have tasks that are overdue, Astid playfully prods you to get things done. The service also notifies you when assigned tasks are completed or if they're decline. If you're using the Chrome app, you'll see pop-up notifications, even if you aren't currently viewing Astrid.com; in other browsers, you'll see notifications when you view the site.
I found Astrid.com slow on occasion, and the service's playful approach may not be for everyone. If you're looking for a task organizer that's more strictly business, you may prefer Remember the Milk. But I like how Astrid makes getting things done feel less like work and a lot more like fun.
–Liane Cassavoy