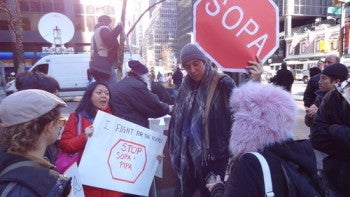 A day after an estimated 10,000 websites went dark and more than 7 million people signed a Google.com petition opposing two controversial copyright enforcement bills, opponents of the bills said there's more work to do.
The Stop Online Piracy Act and the Protect IP Act aren't dead, with the U.S. Senate headed toward an initial vote on PIPA Tuesday, opponents of the two bills said Thursday. Senate Majority Leader Harry Reid, a Nevada Democrat, has scheduled a cloture vote — a vote to override a threatened filibuster of PIPA — for Tuesday, even though about 20 senators have announced opposition this week, including six who had co-sponsored the bill.
Reid talked about senators drafting an amended version of the bill, but no text has been released yet. It's unclear at this point whether backers of PIPA will get the 60 votes needed to override the filibuster threatened by two Republicans and two Democratic senators. Several senators, including some co-sponsors of PIPA, have called on the Senate to slow down.
With the vote still scheduled, the work against the two bills is not over, said Michael McGeary, a strategist at startup consultancy Hattery Labs. Wednesday's protest was "not the first day and not the last day," he said at an anti-PIPA briefing Thursday. "We're here for the duration."
Opponents of PIPA, including the Consumer Electronics Association and NetCoalition, urged senators to delay the vote and return to the drawing board. Any amended version of the bill offered before Tuesday would be the result of a "backroom" deal, and Wednesday's massive online protests seemed focused not only on the content of the bills, but also the rushed attempts to pass PIPA and SOPA, said Mike Masnick, founder of the TechDirt blog.
Wednesday's online protests showed that Web users want a more open process on legislation that affects them, added Michael Petricone, senior vice president of government affairs for the Consumer Electronics Association. "On the Internet, there are no longer any back rooms," he said.
Senator Patrick Leahy, a Vermont Democrat and Senate Judiciary Committee chairman, introduced PIPA on May 12, and the committee voted to approve the bill and send it to the Senate floor two weeks later. In the House of Representatives, Lamar Smith, a Texas Republican and House Judiciary Committee chairman, introduced SOPA on Oct. 26, and the committee held one hearing on the bill. Of the six witnesses invited to speak, only one opposed the bill.
The House committee then began a hearing to amend the bill and move it to the House floor 20 days after the bill was introduced. The markup hearing is scheduled to resume in February.
In Wednesday's protests, thousands of websites, including the English version of Wikipedia, Reddit and Mozilla.org, went dark to protest the two bills. Google remained open for business, but blacked out its logo on its homepage and asked users to sign a petition opposing PIPA and SOPA. More than 7 million people signed the petition, Google said Thursday.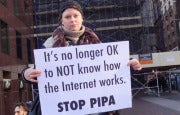 Participants of two anti-PIPA briefings on Capitol Hill Thursday called the protests a tipping point in momentum, and possibly a signal of changes in the way Washington does business. "Four months ago, I would say that the Hollywood community thought this legislation — PIPA and SOPA — were cooked, fully baked, and were going to be rammed through the legislative process," said Markham Erickson, executive director of trade group NetCoalition.
Wednesday's protest showed U.S. Web users, for the first time, that they can have an impact on the legislative process, said Julian Sanchez, a research fellow at libertarian think tank the Cato Institute. Until now, there's been a large "transaction cost" for groups that want to lobby lawmakers, in the form of lobbying expenses, he said.
"The transaction costs to organization have fallen so low, that it's no longer apparent in advance who the players are" in any Washington debate, he said.
Christopher Dodd, chairman and CEO of the Motion Picture Association of America, a strong supporter of PIPA and SOPA, complained in the New York Times that the protests may change Washington, but not necessarily in a good way. Activists now have the ability to spread their messages worldwide, without regulation or fact-checking, he said.
An MPAA spokesman declined to comment on what regulations Dodd would prefer for Internet activism and speech.
Leahy's office on Thursday sent out an email saying a new law is needed to protect U.S. companies against copyright theft.
"As the U.S. looks to remain globally competitive and to preserve its strength in manufacturing, ensuring stricter enforcement of existing intellectual property laws on the Internet is increasingly important," the email said. "By targeting primarily foreign-based websites that steal American intellectual property, the PROTECT IP Act will preserve existing, high paying jobs while helping to spur job creation in the United States."
Grant Gross covers technology and telecom policy in the U.S. government for The IDG News Service. Follow Grant on Twitter at GrantGross. Grant's e-mail address is grant_gross@idg.com.