Hollywood is reportedly not too pleased with President Obama after the White House wrote a letter criticizing elements of the Stop Online Piracy Act (SOPA) and the Protect IP Act (PIPA).
Several studio heads, quoted anonymously by Deadline, say they may refuse to give more donations to President Obama and House Minority Leader Nancy Pelosi.
"We just feel very let down by the administration and Obama for not supporting us," one studio chief reportedly said.
(RELATED: The facts on SOPA and PIPA)
The White House released a statement on Saturday saying that any anti-piracy legislation should avoid security risks, guard against censorship, and protect innovation. Although the statement didn't oppose or endorse any specific legislation, it insinuated that the current House and Senate bills were problematic.
"While we believe that online piracy by foreign websites is a serious problem that requires a serious legislative response, we will not support legislation that reduces freedom of expression, increases cybersecurity risk, or undermines the dynamic, innovative global Internet," the White House wrote.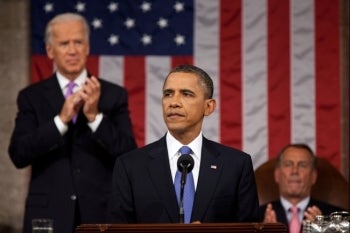 According to Deadline, some Hollywood execs think President Obama's administration should have stayed quiet.
"At least let him remain neutral and not go against it until we can get the legislation right," one mogul reportedly said. "But Obama went against it. I'm personally not going to support him anymore and not give a dime anymore."
What's funny, as TechDirt points out, is that the movie industry was "officially" pleased with the White House's stance on the two acts.
"We welcome the Administration's clear statement that legislation is needed to stop foreign based thieves from stealing the hard work and creativity of millions of American workers," a statement from the Motion Picture Association of America said. The statement didn't say anything about being disappointed with the White House's response.
But the story is different off the record.
"God knows how much money we've given to Obama and the Democrats and yet they're not supporting our interests," one studio head told Deadline.
According to the Center for Responsive Politics, the TV and Movie industry donated more than $9 million to Obama's 2008 election campaign.
Follow Jared on Twitter, Facebook, or Google+ as well as Today @ PCWorld for even more tech news and commentary.