With so many open source software projects under way at any given moment, it can be difficult to keep tabs on all that's going on.
Firefox, Linux, LibreOffice, and the partially open Android platform may dominate the lion's share of the headlines, but there are countless lesser-known open source efforts that are equally worthy of attention.
Want a few examples? Open source-focused provider Black Duck Software this past week announced the winners of its fourth annual Open Source Rookies of the Year. Included in the list are a bunch of new projects that are worth watching.
10 Up-and-Comers
To come up with its list, Black Duck used data on open source projects from sources including Ohloh.net. It says it reviewed thousands of open source projects started in 2011.
Winners were chosen using a weighted scoring system that awarded points based on commit activity (the number of changes made to the software per day), the size of the project team, and the number of in-bound links to the project.
Without further ado, here are the winners Black Duck came up with:
1. Bootstrap, a toolkit from Twitter designed to kick-start development of Web applications and sites;
2. BrowserID, a secure, decentralized, open source, cross-browser way to sign onto websites based on the user's email address;
3. Canvas, billed by Black Duck as "the only commercial open source learning management system and the only LMS native to the cloud";
4. Cloud Foundry, an open Platform-as-a-Service (PaaS) providing a choice of clouds, developer frameworks, and application services;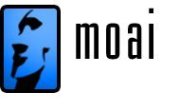 5. Moai, a mobile platform for game developers that offers cloud-based game services and rapid development of iOS, Android, and Chrome titles using the Lua scripting language;
6.Mooege, an open source educational game server emulator;
7. OpenShift, a free, auto-scaling Platform-as-a-Service (PaaS) from Red Hat;
8. Orion, a browser-based open tool integration platform built by the Eclipse platform team;
9. rstat.us, a microblogging platform that's set apart by its simplicity and openness, Black Duck says; and
10. Salt, an open source configuration management and remote execution application.
'Cloud, Mobile, and Gaming'
"The data underlying the 2011 Open Source Rookies list is consistent with shifts we see in our day-to-day business, where cloud, mobile, and gaming draw great support from involved communities of open source developers," said Tim Yeaton, president and CEO of Black Duck Software.
Indeed, open source software such as Linux is increasingly at the forefront of innovation in many enterprises, as recent survey data has shown. Over the upcoming year, these 10 projects would probably be worth keeping an eye on.