Research in Motion announced late Sunday the appointment of a new CEO as the BlackBerry maker struggles to regain relevance in a smartphone world increasingly dominated by iPhones and Android devices. Former co-CEOs Mike Lazaridis and Jim Balsillie are passing the reigns to the company's former co-COO Thorsten Heins, who worked with Siemens AG before joining RIM in 2007. To show off its new leader, RIM on Sunday issued a seven-minute video featuring Heins talking about himself, RIM's current situation, and the company's future.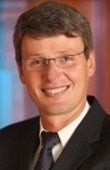 Shareholders, critics and analysts have been calling for RIM's tag-team chiefs to step aside for months as the company's U.S. market share continues to fall off a cliff. Between July 2010 and October 2010, RIM owned about 35.8 percent of U.S. smartphone users. By November, that number had dropped almost in half to just 16.6 percent, according to metrics firm ComScore. Balsillie and Lazaridis will stay on as board members, with Lazaridis serving as vice chair and chair of the board's new Innovation Committee.
One of the few bright spots for RIM has been the company's popularity overseas helping to buoy the smartphone maker's diminishing fortunes in North America. RIM in December said its subscriber base had increased by 35 percent compared to the year prior for a total of 75 million subscribers.

The company has also been struggling to gain a foothold in the tablet market against a stream of Android devices and Apple's iPad. In December, RIM said it has shipped just 150,000 tablets between late September and November, down from 200,000 the prior quarter and 500,000 during the PlayBook's debut sales period in early 2011.
Amid RIM's turmoil have been rumors of buyouts from a number of companies, including Amazon, even Microsoft and Nokia, and Samsung; as well as suggestions that RIM may license its software to other manufacturers.
Licensing software is a notion that Heins may still pursue, but RIM's best hope may lie in a new smartphone platform, dubbed BlackBerry 10, set to debut later in 2012. Blackberry 10 merges RIM's own platform with QNXsoftware — a 2010 RIM acquisition.
So can RIM's new German-born CEO pull the company from the brink of disaster with a blitz of innovation, or is the whole company doomed to go kaput? As Balsillie and Lazaridis step aside, here are a few interesting quotes from Heins' introductory video.
Products, Plans, Promises
"We have taken this [company] to total new heights and that journey isn't over yet."
Huh? By new heights do you mean a steadily shrinking market share in the U.S. with flat and sometimes negative unit sales? Do you mean new heights such as the odd TruePress technology meant to mimic physical feedback from key presses on a touchscreen device? Are you talking about shipping a touchscreen tablet absent two mainstays of the BlackBerry world — native e-mail and BlackBerry Messenger — only to discover that nobody wanted to buy the thing? Or are you talking about how RIM's new platform designed to take on the iPhone and Android, which is only coming to fruition in 2012, five years after the first iPhone launched?
"At the very core of RIM … is the innovation … we always think ahead, we always think forward. We sometimes think the unthinkable, and that is fantastic."
Well, Heins certainly understands the cheerleading aspect of his work. But I think it's fair to say that RIM has been doing everything but thinking ahead and forward since about 2007 when the first iPhone shipped. For the past five years, RIM has tried to come to grips with a market that is casting aside the classic physical keyboard-centric smartphone for touchscreen devices with easy-to-use touch interfaces.
Modern smartphones can play movies and TV shows on beautiful 3.5- to 5-inch screens, store and play thousands of songs, browse the web with relative ease, play tons of games, and have a wide range of native apps.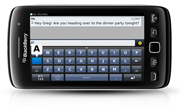 RIM has tried to answer this new trend with recent devices such as the Torch 9850, but the handset ended up receiving lukewarm reviews. Engadget, for example, dinged the 9850 for running the BlackBerry 7 OS, calling RIM's latest OS refresh "dated, tired, and ready to retire." When PCWorld first looked at BlackBerry 7 OS, my colleague Ginny Mies said the new software didn't "feel modern' and BlackBerry was "in dire need of a face-lift."
"Sometimes we innovate too much while we are building a product. So I want to spend more time on prototyping, on exploring, on research and development, while we are building product on a separate stream."
Sounds sensible enough, and if the rumors are correct this may have been part of RIM's problem with the initial launch of the PlayBook. The company's tablet launched without BlackBerry's best-known features such as BlackBerry Messenger and a native e-mail client, for which RIM was heavily criticized.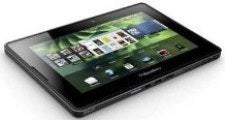 In June, a report came out that claimed RIM was having a hard time putting native e-mail on the PlayBook, because the tablet's QNX-based software required a massive rebuilding of RIM's e-mail system, according to Business Insider. Accurate or not, if RIM had left the PlayBook in the prototype phase a little longer perhaps the tablet's first few months on store shelves would not have been such a disaster.
RIM has since announced that PlayBook 2.0 will ship in February featuring native e-mail, but without BBM.
"Our enterprise customers mean a lot to us … that's a very strong fortress that we own, we want to keep owning this and innovating that fortress."
It's great that RIM is so confident about its enterprise business, but a fortress, really? Fortresses are meant for defending, while innovation is an offensive move. Besides, whenever I hear fortress, I think Alamo. Is that the message a new CEO should be sending?
"When we decide on getting something done, I want it to be done on time at good quality, and at good cost. That, at the end of the day, defines our customer satisfaction."
Another promising idea from RIM's new chief. In 2011, the BlackBerry maker was dogged with product delays and failed to meet expectations. In December RIM announced that its new Blackberry 10-based smartphones wouldn't be ready until the latter part of 2012 after many expected the company to ship its new smartphone platform sooner.
The company in October also announced the second-generation software for the PlayBook will be delayed until February 2012. Many expected to see features such as e-mail and BBM come to the PlayBook soon after the slate's initial launch.
Connect with Ian Paul (@ianpaul) on Twitter and Google+, and with Today@PCWorld on Twitter for the latest tech news and analysis.