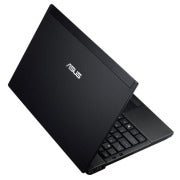 Asus now has a sleek business-oriented ultraportable dubbed the B23E. This 12.5-inch laptop is built to take the abuse that professionals and road warriors are known to throw at their notebooks.
Part of the Asus Pro B Series, the B23E is constructed of magnesium-aluminum alloy on the cover and keyboard chassis, making it both strong and lightweight (at 3.4 pounds). There are reinforced metal hinges, an anti-shock hard drive, a spill-proof keyboard–and the laptop has been drop tested, hinged tested, and pressure tested beyond consumer notebook standards, according to Asus' product page.
A fingerprint reader, motion sensor, and optional Trusted Platform Module chips for security round out the features that may make both business users and IT departments happy.
Here's an Asus video that describes how Asus builds its business-level ultraportable laptops:
Specs
In terms of specs, the B23E is pretty configurable, with your choice of an Intel Core i3, Core i5 or Core i5 processor, up to 8GB of RAM, and up to 750GB of HDD storage (7200rpm). You've got your standard array of ports (Ethernet, Bluetooth, card reader, HDMI), although there's only one USB 2.0 and one USB 3.0. The anti-glare display is your typical 1366-pixel-by-768-pixel resolution.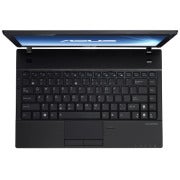 Asus lists the B23E as having only a three-cell battery, which might be disappointing if you want all-day computing without needing to be plugged into an outlet. However, the company says the battery has three times the traditional Li-on battery life cycle thanks to its "Sonata" technology and that the battery quick charges to 90% in 90 minutes. A detachable docking station powers up and connects the laptop to up to three monitors at the office or home.
Ultrabooks may have stolen the show at CES this year, but clearly there's a place and need for other types of ultraportables. The B23E is one option for professionals who don't need the slimmest laptop possible but, instead, need something built for business. Intel Core i7 models of the B23E are available now on Amazon for under $1000.
Follow Melanie Pinola (@melaniepinola) and Today@PCWorld on Twitter