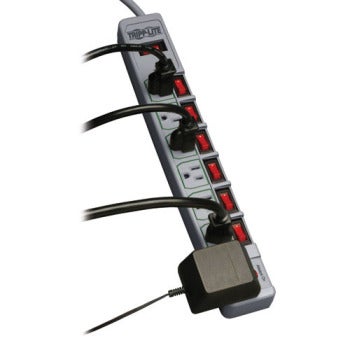 Tripp Lite says its new surge suppressor, the TLP76MSG Eco-Surge, helps save energy as well as protect electronics against electrical surges.
Eco-Surge comes with six individually controlled outlets including an always-on outlet, a 6 foot cord, and 1080 joules of surge protection–a good level of protection against surges. The company offers a lifetime warranty, along with $25,000 connected equipment insurance against power surges.
The suppressor aims to cut back on "phantom load," which is electricity wasted by devices that draw power when turned off. Tripp Lite explains that Eco-Surge's individual outlets prevent these loads by cutting AC power: Devices that normally suck power when off cannot do so any longer.
The individual outlets do not automatically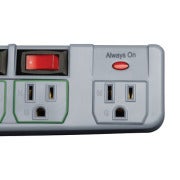 shut-off; the user switches off those that they do not want on, and one outlet stays on continuously. This is helpful for devices such as modems, routers, or DVRs that need to be powered on all the time.
Although the Eco-Surge guards against the damaging effects of power surges, and stops off devices from using electricity– another surefire way to prevent phantom loads is to simply unplug your device.