The U.S. Supreme Court has determined that warrants must be obtained before the government can attach a GPS tracking device to a motor vehicle–and this decision is being hailed as a victory for individual rights by civil liberties groups.
"This decision is significant victory for privacy," ACLU Staff Attorney Catherine Crump told PCWorld. "This [decision] is a good reason to be optimistic that the Court will update our understanding of the Fourth Amendment to keep pace with new technologies."
"It is novel because it is one of the first decisions to ray-in on how the digital revolution is going to affect our privacy rights," Crump added.
In the case, U.S. v. Jones, the Supreme Court unanimously found that the U.S. government violated the fourth amendment rights of Antoine Jones when it placed a GPS tracking device on his car without his knowledge. The fourth amendment protects citizens from unreasonable search and seizures by the government.
Although the case focused on attaching a GPS tracking device to a motor vehicle, the implications of the case go beyond these narrow boundaries.
"A majority of the justices recognize that new technologies make it possible to collect more and more information about Americans than ever before," Crump said. "And [the Supreme Court justices] seem poised to deal with other forms of invasive tracking in the future."
One such invasive technology is cell phone triangulation.
"Cell phone triangulation can be just as precise as GPS," Gregory T. Nojeim, director of the Center for Democracy & Technology's Project on Freedom, Security and Technology says in a statement.
Because the Court's majority opinion didn't address the cell phone issue, Nojeim called for a legislative solution to the problem.
"Congress should build on this opinion by writing a statute that draws a bright line requiring the government, except in emergencies, to get a warrant before turning your cell phone into a tracking device," Nojeim said.
There is support among the justices for Congressional action in that area, according to Hanni Fakhoury, a staff attorney for the Electronic Frontier Foundation.
"At least five justices said Congress needs to step in and should regulate this type of thing if they're really troubled by it, just as they did with wiretaps," Fakhoury told PCWorld.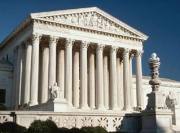 Today's court decision on GPS tracking devices also received kudos from the Council on American-Islamic Relations (CAIR), which is currently involved in a case involving a Santa Clara, California resident who discovered a GPS tracking device placed on his vehicle in October 2010. FBI agents went to his home two days after the GPS device was discovered to retrieve it and interrogate him.
"We welcome this decision because it clearly shows that the nation's highest court has recognized that the warrantless use of GPS devices is a violation of Fourth Amendment protections against unreasonable search and seizure," CAIR Legal Counsel Nadhira Al-Khalili, who filed a "friends of the court" brief in the case for the council, said in a statement.
Follow freelance technology writer John P. Mello Jr. and Today@PCWorld on Twitter.