Facebook users who've been avoiding the new Timeline profile format won't have a choice for much longer, because Facebook will be switching all users over to the Timeline format in the next few weeks.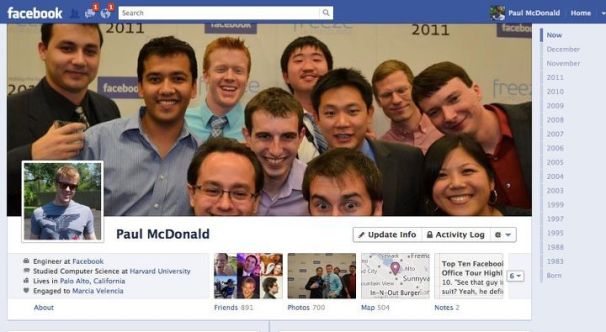 Timeline is Facebook's attempt to narrate users' life stories through photos, status updates, major events, and new friends. Like the old profiles, Timelines are arranged in reverse chronological order, but it's now much easier to go back in time, with an index of years on the right side of the screen. Users can fill in information at any point in their Timelines, including "life before Facebook."
Users can also plug in Facebook apps, showing summaries of the music they're listening to, the articles they're reading, and the movies they're watching. Facebook recently expanded the scope of this feature to include apps for food, shopping, concerts, and more.
As with any major change on Facebook, some backlash is expected once users are forced to switch. On Facebook's blog post announcing Timeline, some of the most popular comments are from users complaining about it. (Although, to be fair, many of the responses to those comments are from users defending Timeline.)
Facebook users have a history of being irritated by design changes and getting used to them just as Facebook rolls out a new design.
In time, I think Facebook users will come to like Timeline. It includes lots of controls for what information appears, along with who can see that information, and the end result is a profile that's truer to the user's background and interests. The only major downside is that users must do some cultivating to bring their most relevant life details to the surface.
Also, I've said this before, I wish Facebook apps didn't automatically publish information about users' activities. A little bit more control over what gets published would make Facebook less noisy, while giving users more way to curate what goes into their Timelines.
If you haven't switched to Timelines yet, and don't want to fight it anymore, go to Facebook's "Introducing Timeline" page, and click "Get Timeline." You'll have a week to edit it before it goes live.
Follow Jared on Twitter, Facebook or Google+ for even more tech news and commentary.