Recently I've heard from a number of users who are looking for a way to cut that pricey cable-TV cord, but don't want to give up on watching and recording their favorite network shows. Turns out there's an easy and very affordable solution, one that eliminates cable (cable-TV, anyway) service entirely and frees you from monthly fees. It's called Windows 7.
This may come as a surprise, but Windows packs a very powerful TiVo-like DVR system called Windows Media Center. When paired with an inexpensive TV tuner and a decent antenna, it lets you watch and record broadcast television–in high-def!
The PC part is up to you. It can be a laptop or desktop, as long as it runs Windows 7 Home Premium, Professional, or Ultimate. (Windows 7 Starter doesn't come with Windows Media Center, nor does Windows 7 Enterprise.)
You'll also need a reasonably large hard drive with a decent chunk of free space. A one-hour recorded TV show can easily consume 7-8GB, so if you're envisioning recording multiple episodes of multiple shows, make sure you have ample storage to spare.
Before we talk tuners, make sure you live in an area that gets decent over-the-air (OTA) reception of local channels. A site called AntennaWeb.org can answer that question for you and tell you what kind of antenna you might need to get. (If you're already watching OTA shows on your TV, just without a PC in the mix, you're all set.)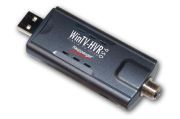 Your antenna will screw into the tuner, which in turn will plug into one of your PC's USB ports. Then you'll run Windows Media Center and walk through the TV setup process.
So, what kind of tuner should you get? I recommend sticking with a well-known brand like Hauppauge, just to ensure proper compatibility with Windows Media Center. I've had good luck with the WinTV-HVR-950Q, which has a list price of $99 but routinely sells online for around $75. The tuner enables the PC to display and record broadcast TV shows.
How Do I Install Software from a CD When My Laptop Lacks a CD Drive?
Recently I became the mostly happy owner of an HP Pavilion dm1z. I say "mostly happy" because I wasn't thrilled with its performance. To give the system a boost, I decided to swap the pokey 5,200-rpm hard drive with a speedy solid state drive.
The Samsung SSD upgrade kit I bought came with Norton Ghost 15–a utility that would copy the entire contents of my existing hard drive to the new drive–on CD. But the Pavilion, like so many ultrabooks, ultraportables, and other ultra-compact laptops, has no CD drive. How was I supposed to install Ghost?
A friend of mine had a similar problem with some new drive-less systems he'd purchased. He wanted to install his licensed, disc-based copies of Microsoft Office, but couldn't.
This begs the question: If your PC lacks an optical drive, how can you install software that's stored on a CD or DVD?
You have two options. First, you can buy or borrow an external drive. A quick check of Ebay reveals tons of USB DVD burners selling for $20-40. Might be a handy item to have on hand.
Second, try downloading your software instead. When I checked Samsung's support page for my SSD kit, I found not only manuals and drivers, but also Norton Ghost 15.
I downloaded it, installed it, then activated it using the license key that came with the actual disc.
You can do likewise with Microsoft Office: just download the trial version that matches the version you already own, then activate it using your product key. (This gets a little trickier with older versions of Office, as Microsoft currently offers only the 2010 edition for download. You might need to hit up some torrent sites to find older trials.)
This method should work for the vast majority of other software as well. Usually you can download a trial or demo version and then unlock it with your license key. And the added bonus is you'll have the latest updates right from the get-go.
If you've got a hassle that needs solving, send it my way. I can't promise a response, but I'll definitely read every e-mail I get–and do my best to address at least some of them in the PCWorld Hassle-Free PC blog. My 411: hasslefree@pcworld.com. You can also sign up to have the Hassle-Free PC newsletter e-mailed to you each week.
WinTV-HVR-950Q
Price When Reviewed:
$83.95