Care to download and print your dinner? Not today, of course, but the possibility may exist in the not-to-distant future. The Pirate Bay, a notorious and extremely popular torrent site, has created a new category for files that allow 3D printers to create physical objects.
In a Monday blog post, The Pirate Bay's "WinstonQ2038" labeled the site's new category "physibles" –data objects that users can transform from digital to physical form via 3D printers and scanners.
Eventually, people may be able to print spare parts for vehicles, or even download sneakers, the post predicts.
An emerging technology, 3D printing allows scientists, artists, and even crooks to swiftly build three-dimensional prototypes. Plastic is usually the preferred material for these creations, but 3D printers can use a variety of other materials, including stainless steel, Styrofoam, and human tissue.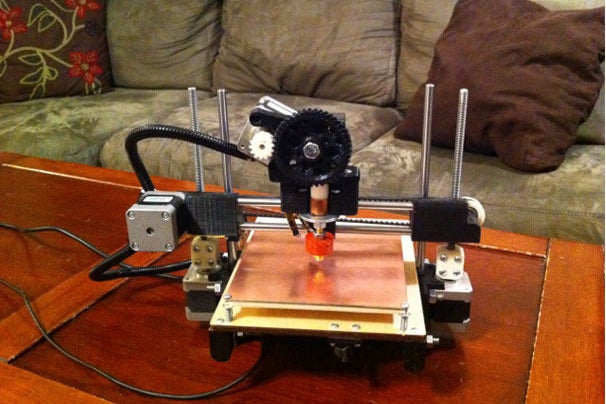 The Pirate Bay's blog explains the genesis of the physibles category. Much of the intellectual content we use today, including books, movies, and music, is "born digitally." Gone are the days of analog-to-digital conversion–well, most of the time.
Physical objects, of course, are different. Three-dimensional printing may have a revolutionary impact on how we create real-world objects.
"The benefit to society is huge. No more shipping huge amount of products around the world. No more shipping the broken products back. No more child labour. We'll be able to print food for hungry people. We'll be able to share not only a recipe, but the full meal. We'll be able to actually copy that floppy, if we needed one," writes WinstonQ2038.
Perhaps. Unless, of course, children are the ones operating 3D printers in miserable sweatshops.
The Pirate Bay has faced a seemingly endless series of legal battles in recent years. The entertainment industry, for instance, claims that most of the content indexed by the file-sharing site is pirated material.
Someday, there may be a 3D file for printing a Big Mac. Assuming your 3D printer has all the necessary raw ingredients…well, that could be trouble on a variety of legal (and gastronomical) fronts.
Contact Jeff Bertolucci at Today@PCWorld, Twitter (@jbertolucci) or jbertolucci.blogspot.com.