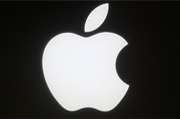 Apple more than doubled its profits last quarter thanks to brisk sales of its iPad and iPhones over the holiday season.
Apple made a profit of $13.06 billion for the quarter ended Dec. 31, the first in its fiscal year. That compared to $6 billion in the same quarter a year earlier, Apple announced Tuesday.
Its earnings per share were $13.87, blowing past the analyst estimate of $10.10 per share, according to Thomson Reuters. Revenue was $46 billion, compared to the analyst estimate of $39 billion.
"We're thrilled with our outstanding results and record-breaking sales of iPhones, iPads and Macs," Apple CEO Tim Cook said in a statement. Apple was reporting results for its first full quarter under Cook, who took over from Steve Jobs in late August.
Apple sold 37.04 million iPhones in the quarter, up 128 percent from the same quarter a year earlier. And it sold 15.43 million iPads, up 111 percent from a year earlier.
Mac sales totaled 5.2 million units, up 26 percent. Sales of its iPod continued to decline, however, by 21 percent to 15.4 million.
The fourth quarter is typically the strongest of the year for consumer electronics vendors. During the quarter, Apple shipped the iPhone 4S, which included a new dual-core A5 processor and a better camera, among other things. While the launch has gone smoothly in most places, Apple abruptly canceled sales of the smartphone at one of its Beijing stores earlier this month, which resulted in disappointed customers throwing eggs at the building.