At a Glance
Expert's Rating
Pros
Free app that updates drivers
Neat and clean interface
Cons
Can only update one driver at a time
Bundles AVG toolbar
Our Verdict
Keep the drivers on your PC up to date.
Let's face it: Keeping your PC's drivers up-to-date can be a pain. Several apps, such as PerfectUpdater and DriverScanner, will make this task easier, but they cost $30 each. What if you don't want to shell out any money, and you still want to make driver updating an easy process? The free SlimDrivers can help. This utility isn't quite as seamless as its higher-priced rivals, but it's the best free solution I've tested for identifying and updating outdated drivers.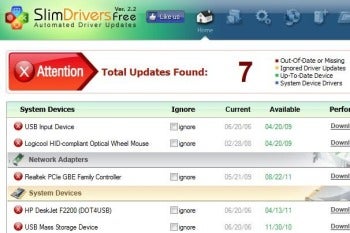 Like its rivals, SlimDrivers begins by scanning your PC for outdated drivers and then presents a list of items to fix in an easy-to-read format. SlimDrivers uses a cloud-based system for identifying updates, and the app quickly and accurately identified 10 out-of-date drivers on my PC. Results are presented in an attractive layout; I like how it tells you the date of when your driver was updated, as well as the date when the most current version was made available. PerfectUpdater and Driver Reviver both feature a handy icon that tells you whether your current drivers are "old," "very old," or "ancient," which I appreciated while using them. But I didn't miss this feature when using SlimDrivers; in fact, it would have looked out of place on SlimDrivers' clean interface.
Where SlimDrivers really sets itself apart from the competition is in its ability to update drivers easily: This is something that none of its true rivals offer in their free versions. (The free Device Doctor does include updates, but the process is incredibly clunky.) SlimDrivers says its updates are manual, but they're not a lot of work: to update an outdated driver, you simply click the "Download Update" link that the software provides. SlimDrivers does all the work, and even automatically creates a system restore point for you.
SlimDrivers is not perfect. It only allows you to update one driver at a time, where its paid rivals let you run several updates at once. SlimWare does offer a paid product, the $30 DriverUpdate, which offers this feature–and much more. In addition to its driver updating capabilities, DriverUpdate also delivers OS and software updates, too.
As for SlimDrivers, I also don't like how its default installation bundles the AVG Security Toolbar and changes your homepage to AVG's Secure Search. (You have to select a custom installation to avoid these "features.") But it's easily the best free product I've found for identifying and updating outdated drivers.
— Liane Cassavoy