Motorola's Droid Razr Maxx is set to launch on Verizon Wireless for $300, combining monster battery life with a relatively slim figure.
Motorola claims that the Razr Maxx gets 21 hours of talk time on a charge. More amazingly, the phone can stream seven hours of video on Verizon's battery-draining 4G LTE network, Motorola's senior product marketing manager, Jeff Hadden, told me at CES.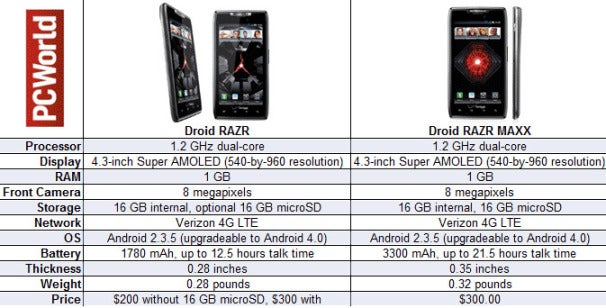 The Droid Razr mostly uses brute force to beef up battery life, with a 3,300 mAh lithium ion battery that's nearly twice the capacity of the original Razr. Motorola's "Smart Actions," which automatically control settings like GPS, Wi-Fi and Bluetooth, may also play a role.
In exchange for the bigger battery, the Razr Maxx weighs 0.32 pounds and measures 0.28 inches thick. That's 0.05 pounds heavier and 0.07 inches thicker than the original Droid Razr. The difference isn't too noticeable given that both have a thicker hump
Also, Razr Maxx buyers won't have the option to save $100 by forgoing the included 16 GB microSD card.
Look for PCWorld's Razr MAXX review soon, as we put Motorola's battery claims to the test.
Follow Jared on Twitter, Facebook or Google+ for even more tech news and commentary.