At a Glance
Expert's Rating
Pros
Great output on photo paper
Prints on specially coated CD/DVD media
Cons
Flesh tones have an orange tint on plain paper
No automatic document feeder
Our Verdict
Superior glossy-photo output and performance somewhat justify the unit and ink prices for this MFP, but color graphics on plain paper don't measure up.
The Canon Pixma MG8220 Wireless Inkjet Photo All-In-One is the company's flagship consumer color inkjet multifunction (print/copy/scan), with a flagship price ($300 as of January 24, 2012). High-end perquisites include integrated slide and film scanning, CD/DVD printing, and a six-tank ink cartridge system (CMYK plus photo gray and black) that produces excellent glossy photo prints. For the price, however, we expect better than the subpar plain-paper color graphics it produced in tests. And unfortunately, its space-agey touch control panel leaves no room for an automatic document feeder, a feature that is becoming common among its competitors.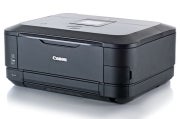 The Pixma MG8220 uses Canon's Intelligent Touch system, which consists of a 3.5-inch, tiltable color LCD driven by contextually lit touch controls integrated into the scanner lid. When you need a function, the appropriate touch buttons light up; otherwise, they stay dark. The system looks great and works well, but perhaps more intelligent on a printer this pricey would be a front touchscreen display, which would allow space for an automatic document feeder for the letter/A4 scanner. One of the Pixma MG8220's main rivals, the Epson Artisan 837, comes with an ADF.
Aside from the lack of an ADF, the Pixma MG8220's paper- and media-handling features are top-notch. The bottom cassette holds 150 sheets, as does the rear vertical feed, which also serves to eliminate the sharp turn for heavy photo paper. A tray for printing specially coated CDs and DVDs is included; the tray feeds manually into a slot above the output tray. The MFP also comes with a 35mm film and slide adapter, which is located on the reverse side of the removable backing on the inside of the scanner lid. In addition, the Pixma MG8220 has front slots for SD and Memory Stick cards, as well as a USB/PictBridge port.
Canon provides all the necessary software for local photo printing and scanning, plus all the latest Web and wireless functionality, including the ability to print and scan from mobile devices via Canon's Easy PhotoPrint app. Setup, though laden with dialog boxes, is easy through any supported interface (USB, ethernet, Wi-Fi). The software fully supports scanning from the printer's control panel to PCs and Macs.
The Pixma MG8220 is fast for a photo printer, processing text pages at 7.9 pages per minute on the PC and 8.2 ppm on the Mac in our tests. Half-page photos printed at about 3 ppm to plain paper and 2 ppm to glossy paper. Full-page photos printed on the Mac took about 2 minutes. Full-page copies required about 15 seconds, and scans were similarly quick.
Ink costs for the Pixma MG8220 are a tad on the expensive side for photos, and downright unfriendly for text. The printer uses the $14 CLI-226 cartridges for the five photo colors (cyan, magenta, yellow, photo black, and gray) and the $16 PGI-225 cartridge for black text.
Since this is a photo printer, we'll gloss over the fact that the black cartridge lasts for only 311 pages–a pricey 5.1 cents per page. The color cartridges vary in yields, with the three main CMY cartridges lasting around 450 pages, and the photo black and gray lasting quite a bit more. Sparing you the math, four-color pages cost about 14.2 cents, and 4-by-6-inch photos cost 23 cents. Put comparatively, text documents are expensive, while graphics and photos are average in cost.
The Pixma MG8220's output is exceptional–with an exception. As with other Canon printers, plain-paper graphics turn out comically orange–faces of all races look as if they were spray-tanned. Other than that, even draft text looks great, and in fine mode, text is almost laser-like. Photos on glossy paper are excellent, appearing warm and finely detailed.
It's expensive and it lacks an ADF, but the Canon Pixma MG8220 can deliver the photo prints you're looking for and take care of other artistic chores such as scanning and creating CD labels to boot. If your budget is a little tight, consider the lower-priced and ADF-equipped HP Photosmart 7510.