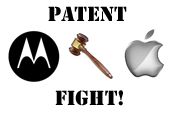 Motorola on Tuesday filed a new lawsuit in Florida charging Apple with infringing six patents in the iPhone 4S and four of those patents in iCloud.
The suit names the same six patents that Motorola cited in its complaint against Apple filed in 2010 in the same court. Motorola tried to add the iPhone 4S and iCloud to the list of Apple products in the original suit but the judge ruled that it was too late to do so.
The new suit is notable amid the lengthy battle between Motorola and Apple because it must have been sanctioned by Google, noted Florian Mueller, who has been closely following mobile patent lawsuits, in a blog post. Mueller is a patent expert who is sometimes paid by companies including Microsoft for his work.
The merger agreement between Google and Motorola stipulates that Motorola not assert any new intellectual property actions without an agreement in writing by Google. That means Google must have expressly authorized Motorola to pursue this new case, filed in the U.S. District Court for the Southern District of Florida.
Many experts believe that Google may have agreed to purchase Motorola for the cellphone maker's extensive intellectual property portfolio, since Android has come under attack in the courts by companies including Microsoft and Apple.
Apple and Motorola have also taken their battle to the U.S. International Trade Commission, which recently issued an initial determination that Motorola did not infringe on three Apple patents. German authorities have also sided with Motorola recently by issuing an injunction that would prevent Apple from selling products in that country.
Motorola and Microsoft are also battling over patents. The many legal disputes are weighing on Motorola, which recently blamed the cost of patent lawsuits and increasing competition for projected weak financial results.
Nancy Gohring covers mobile phones and cloud computing for The IDG News Service. Follow Nancy on Twitter at @idgnancy. Nancy's e-mail address is Nancy_Gohring@idg.com