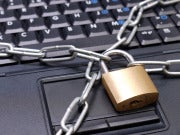 A federal judge in Colorado ordered a defendant to decrypt her laptop, denying her claim that being forced to so violates her Fifth Amendment rights. The defendant, Ramona Fricosu. claims that being ordered to release the contents of the drive would be essentially testifying against herself in this criminal case of bank fraud.
It's a complicated, landmark case that many are keeping a close eye on, because it brings up questions of digital rights and what might be considered protected information. If anything, this case suggests an encrypted drive is no guarantee you can escape the law. Fricosu has until February 21 to surrender an unencrypted version of the hard drive.
Police seized the laptop after Fricosu made multiple references to the password-protected notebook during in-jail phone calls with her ex-husband.
U.S. District Judge Robert Blackburn said since law enforcement agents know the computer belonged to and was used by Fricosu and since the jailhouse recording suggests the laptop contains the information the authorities seek, the safety net of pleading the Fifth doesn't apply here. Blackburn wrote in his ruling (PDF) on Monday: "I conclude that the Fifth Amendment is not implicated by requiring production of the unencrypted contents of the Toshiba Satellite M305 laptop computer."
Fricosu's attorney has filed a motion to stay the case until the judge's ruling can be appealed, and the Electronic Frontier Foundation (EFF) concurs. EFF Senior Staff Attorney Marcia Hoffman says, "Decrypting the data on the laptop can be, in and of itself, a testimonial act–revealing control over a computer and the files on it. Ordering the defendant to enter an encryption password puts her in the situation the Fifth Amendment was designed to prevent: Having to choose between incriminating herself, lying under oath, or risking contempt of court."
Follow Melanie Pinola (@melaniepinola) and Today@PCWorld on Twitter