Although smartphones aren't as powerful as laptops or as showy as tablets, you're certain to have one you at all times. When it comes to giving presentations on the road, your smartphone can be the ideal tool in a pinch. Here's how to make the most of it.
Portable Drive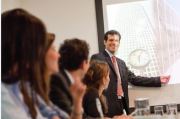 If there's already a computer and projector where you're delivering the presentation and you just need to move your files there, use your phone as a portable disk. Before you leave your desk, transfer the file from your PC to your phone for easy access later. Or, if you're toting a Windows Phone 7 handset, you can just access your PowerPoint file on the phone via SkyDrive. Your phone can also be a lifesaver when you forget a file offsite, as long as you store your presentation in an app like Dropbox or Box. Just remember to pack an extra USB cable to connect your phone to a computer.
Remote Control
Another way your phone comes in handy, if your presentation site already has a computer and projector, is to act as a remote control. Using an iOS or Android app installed on the phone that talks to a server program on the presentation computer, you can control the presentation through gestures on your phone. Examples of this phone and PC software combination include iOS apps like i-Clickr PowerPoint Remote, or Android apps, like Bluetooth Remote PC, which work via Bluetooth, or "Remote for PowerPoint" that can also use Wi-Fi.
HDMI/MHL Out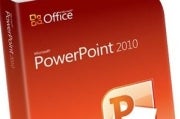 There may be times when you want to use your phone as the presentation device itself, like when there's no computer available. In this case, some phones offer video output options so you can display your slideshow on a monitor or TV. Newer iPhones can output video with a special 30-pin-to-video cable, and Android phones such as the HTC Evo 3D even include a mini-HDMI or MHL output. It's important to note that not all phones can output everything shown on the screen to a display or projector, and some are limited to specific media types like video, so be sure to test your setup early before you hit the road.
Presentation Software
If you can use your phone as the presentation device, you'll need presentation software. Microsoft's Windows Phone 7 includes a PowerPoint viewer, but apps like Documents to Go or Quickoffice Pro also allow both Android or iOS to display a PowerPoint presentation stored on the phone. To avoid potential issues that apps might have with fonts, version incompatibility, and limited features, consider using a remote desktop app to display the presentation running on your office PC. An app like LogMeIn for iOS or TeamViewer for Android will access your office desktop, so you can run your presentation remotely in native PowerPoint. Just be sure to have a reliable network connection.
Future Capabilities
Recently, a self-described hacker developed a system to combine a PC, a projector, and a Microsoft Kinect camera to project his phone's display onto a wall (Watch the video, below). He could control the phone by interacting with the image on the wall. The extra equipment doesn't make this solution practical on a business trip, but with companies like Texas Instruments developing pico projectors for smartphones, and the LG eXpo already having a snap-on pico projector option, it's not hard to imagine a phone integrating these capabilities in the not-so-distant future.
Joseph Fieber has 25 years of experience as an IT pro, with a background in computer consulting and software training. Follow him on Google+, Facebook, or Twitter, or contact him through his website, JosephFieber.com.