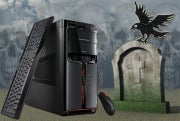 With tablets and smartphones generating so much buzz these days, it's easy to write off the good old personal computer as a dying platform. However, the latest numbers from the NPD Group show that the PC market is doing "pretty well."
Last year, the number of PCs sold, which includes both laptops and desktops, increased by 20 percent, while revenues jumped 14 percent, according to the market watch group. Shipments for the period also increased by 20 percent.
Within those numbers, however, are some interesting nuggets that further point to a healthy PC market, according to NPD Vice President for Industry Analysis Stephen Baker.
For example, the average selling price for laptop PCs was $764 in 2011. That's a five-percent drop from 2010, but $4 higher than 2009, which was the height of the recession.
Desktops did even better. Average selling price was $638, down three percent from 2010 and up $13 from 2009.
While sellers prefer the prices of what they're selling to increase rather than decrease, Baker maintains PC prices are a positive story for computer makers. "Finding stable pricing anywhere in the IT hardware marketplace is a difficult task but in such a high-profile market as the PC market it is impressive," he said.
Outlook Better for 2012?
If last year was a decent year for PCs, this year has the potential to be even better. That's because both the laptop and desktop markets will see some hot new products.
Slim, sleek, eye-catching Ultrabooks will try to entice consumers to upgrade from their clunky laptops.
On the desktop side, all-one-computers with the same kind of design pizzazz as their Ultrabook counterparts will tantalize keyboard jockeys who are tired of tangles of cables and space-hogging tower boxes.
And tying it all together will be a new operating system from Microsoft, Windows 8, which promises to bring to the PC a lot of what makes mobile devices so popular.
All that adds up to a PC revival and disappointment for writers of PC epitaphs.
Follow freelance technology writer John P. Mello Jr. and Today@PCWorld on Twitter.