Apple workers will soon get a whopping $500 off new Macs and $250 off new iPads as part of their employee benefits, according to 9to5Mac. The benefits were announced by CEO Tim Cook at the company's town hall meeting this week, the site says.
There are some restrictions, of course, but not as many as you might expect. First, employees must work at Apple for at least three months, or 90 days, before they can utilize the discount. Second, they can only use the discount once every three years (not that people really purchase computers more often than that).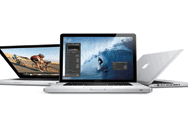 Finally, the $500 off of new Macs deal excludes the Mac mini, because of the Mac mini's price point — the system starts at just $599. But other systems, including the $999 MacBook Air, will get the discount.
The new benefits program will officially start in June 2012, so now is the perfect time to go get a job at Apple (you'll be eligible for the discount by June). Apple employees currently get 25 percent off of Macs, which makes the $500 discount a pretty big deal. No word on whether the 25 percent discount will remain on systems that cost more than $2,000, but I suspect it won't.