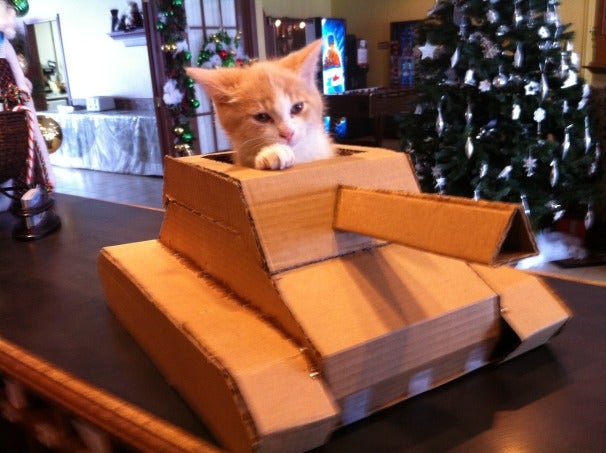 Remember the stupid-yet-awesome cardboard scratching post turntable for cats? Well, clever cardboard creations for your beloved feline don't end there. If you have a lot of cardboard around and are searching for a fun project to undertake, turn your attention to the cardboard cat tank.
Instructables user "Tigris Li" uploaded step-by-step instructions that detail how you can make an itteh bitteh tank for your kitteh. You don't really need any complicated materials here, just a decent-sized cardboard box, scissors, glue, and a bit of imagination. Cut out the tank shapes, glue them together, and voila! It's all ready for your cat to stride off to battle.
To demonstrate this project's potential awesomeness, Tigris placed her kitten inside, and made a stange (but totally cute) short video. Check it out below, then make your own version and send GeekTech the result!
[Instructables via Laughing Squid]
Like this? You might also enjoy…
Get more GeekTech: Twitter – Facebook – RSS | Tip us off