The district court in Mannheim, Germany, has again sided with Apple in a patent suit brought by Samsung Electronics, saying on Friday that the company had not infringed on a second patent asserted by Samsung against the iPhone and iPad.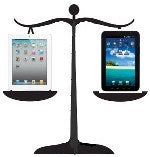 Last week the court decided that Apple hadn't infringed on the first in a series of mobile patents Samsung has said Apple is using without paying royalties.
Samsung now reiterates what it said after the first loss. The company is disappointed, and will analyze the verdict and decide if an appeal is in order, a spokesman said via e-mail. Samsung still hopes the court will take its side on the remaining patents, and more verdicts will come in the next several weeks, he said.
The patent in question is EP 1,114,528, describing an "apparatus and method for controlling a demultiplexer and a multiplexer used for rate matching in a mobile communication system".
Apple didn't comment on its latest victory.
The two companies are battling in the stores as well as the courts. Apple won during the fourth quarter, selling 37 million iPhones to Samsung's 36.5 million smartphones, according to data from Strategy Analytics.
The data also shows that the smartphone market is turning into a two-horse race.
Together Apple and Samsung had almost 50 percent of the smartphone market during the last three months of 2011, compared to about 40 percent during the third quarter and the whole year.
Send news tips and comments to mikael_ricknas@idg.com