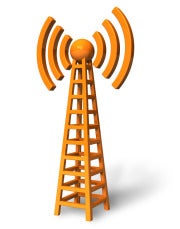 WILMINGTON, NC — At Airlie Gardens in this coastal North Carolina city, 400-year-old live oaks nestle next to natural wetlands and cutting-edge technology. In the guard house a quarter mile from Airlie's entrance, a monitor displays high-definition images of the security gate captured by a remote camera.
What's different about these images is they were delivered via "white spaces," a wireless technology that uses portions of the old analog TV spectrum to transmit high-speed data.
"We're getting 2 megs down through some pretty dense foliage," says Leslie Chaney, information technology director for New Hanover County. "We never would have been able to do that using WiFi."
On Thursday, the county officially unveiled the world's first commercial deployment of white space technology, which could ultimately offer consumers more inexpensive and seamless forms of Internet access.
Also known as "Super WiFi" or "TV Band," white spaces can broadcast over much longer distances than WiFi, says Akshay Sharma, research director for Gartner's carrier network infrastructure team. And because it operates at lower frequencies, it's better at penetrating buildings and trees than cellular.
"In UK trials, a company called Neul says it delivered 16 megabits per second over a range of 10 kilometers," he says. "That puts white spaces on a par with 4G."
Approved by the FCC in November 2008, white spaces met strong resistance from the television industry, which feared it would interfere with their broadcasts, as well as wireless microphones and other radio equipment. In February 2010 the city of Wilmington began testing white space transmissions using a database, designed by Spectrum Bridge, which continually scans airwaves to find unused portions of spectrum and allocate them to white space radios.
The success of those tests is reflected in yesterday's announcement, says Spectrum Bridge CEO Rod Dir.
Wilmington was the first US metro area to switch from analog to digital TV in September 2008, three months before the rest of the country. It was chosen for the white space tests due to the success of the digital TV roll out, says Alan Stillwell, deputy chief of the Federal Communications Commission's Office of Engineering and Technology.
Though white space radios exist today, consumers will most likely encounter the technology when it's built into next-generation WiFi routers, 4G handsets, Femto cells, and other wireless devices, says Sharma. White space devices are more likely to complement existing technologies than replace them.
"You may use WiFi to connect your laptop, white space to connect building A with buildings B and C, and maybe a point-to-point microwave or fiber to connection from your headquarters to your carrier," he says.
White Space may also become the broadband delivery method of choice in rural areas un-served by cable or phone companies, replacing satellite and point to point transmissions. In October 2009 the FCC approved an 18-month trial using white spaces to deliver high-speed Internet to citizens of Claudville, Virginia, population 900.
In addition to Airlie, the City of Wilmington is using white space radios to provide free Internet access in city parks, for traffic cams, and environmental monitoring. For example, in a recent test, county officials used the technology to transmit data from a water monitoring station to a firehouse more than a mile away, says Chaney.
The Airlie cameras have been live for two weeks, she adds. Have they caught any vandals or vagrants yet?
"No, but we saw a fox once," she says. "That was exciting."