Jon Rubinstein, known for his role developing the original iPod for Apple and for running Palm, has left Hewlett-Packard, where he's worked since the company's acquisition of Palm.
"Jon has fulfilled his commitment to HP. We wish him well," HP said in a statement.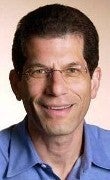 Rubinstein had been senior vice president for product innovation for the Personal Systems Group. HP did not say what Rubinstein's plans are, but AllThingsD, which broke the news about the move, quoted him as saying he plans to take some time off.
Rubinstein joined Palm in 2007 and became CEO in 2009 just as the company launched its first phone running a new operating system, webOS. The operating system got great reviews and earned loyal fans but the devices failed to take off.
After it became clear that webOS and the new devices couldn't sustain Palm, the company agreed to be bought by HP in 2010. Last year, Rubinstein took a back seat to Stephen DeWitt, who was named to run the group that included webOS. Then HP decided to stop making new webOS phones and tablets just after releasing the first tablet to run webOS.
Rubinstein made a name for himself at Apple, where he played a lead role developing the iPod.
Nancy Gohring covers mobile phones and cloud computing for The IDG News Service. Follow Nancy on Twitter at @idgnancy. Nancy's e-mail address is Nancy_Gohring@idg.com