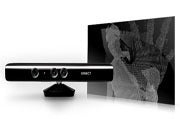 Microsoft is working on implanting its Kinect technology into laptops, so you may soon be able to control programs with the wave of your hand.
The Daily got a look at some prototype laptops with integrated Kinect sensors and described the devices as Asus netbook lookalikes running Windows 8, with an array of small sensors at the top of the screen where the webcam is normally placed.
If you're familiar with Microsoft Kinect's voice and motion controls on the Xbox 360, you know its potential for gaming on the laptop. Other applications come to mind, however: Imagine swiping your finger in the air to switch between windows or applications or using other motions to control your song playlist without having to be right at the keyboard. These laptops would also offer additional control for disabled users.
A Kinect-enable laptop won't be built in-house by Microsoft (no surprise there), but instead licensed to manufacturers, according to the speculation. While these devices are probably not coming anytime soon, get ready for potential new ways to interact with your laptop.
Follow Melanie Pinola (@melaniepinola) and Today@PCWorld on Twitter