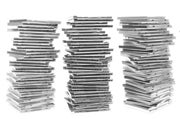 Switching from CDs and DVDs to digital equivalents is a great way to unclutter your life, but what do you do with all your outmoded discs once you've transferred their contents to your computer? In the first part of this series, we discussed how to get rid of unneeded books; but if you're like me, you also have a large collection of old DVDs and CDs taking up space–and disposing them has its challenges. I'll discuss the problems to watch out for, and describe how to make the switch.
Moving versions of your music and movies from your CDs and DVDs to your computer isn't terribly complicated, since they're already digital. Even copy-protected DVDs are relatively simple to copy onto your PC, though you should be aware of some legal caveats.
Can You Legally Copy Your Discs?
Ripping a copy of your own DVDs is a bit of a gray area in the law of copyright. Most experts agree that, under the doctrine of Fair Use, making a copy of your own CDs doesn't violate U.S. copyright laws; doing so should be safe as long as you neither distribute the music you ripped nor use it commercially. The situation with regard to ripping a DVD is a bit more complicated because ripping a commercially available DVD entails breaking its DRM, which technically violates the Digital Millennium Copyright Act.
Some commentators argue that ripping a DVD that you legally own in order to create a backup or to play on other devices in your home qualifies as Fair Use; but this issue is far from settled. Ripping Blu-ray discs occupies a similarly gray area. As far as we know, the MPAA has never sued individuals for ripping their own legally bought discs for their own personal use, but consider yourself warned.
Legal scholars disagree about where the limits are; but if you try to resell media that you've copied, you may find yourself in legal hot water. Though you're unlikely to get hauled into court for selling used DVDs and CDs even if you keep a copy of the movie or album on your hard drive, the legally safest policy is to delete any such copies before you sell your DVDs and CDs.
Ditching Your Collection for Subscription Services

Thanks to streaming services like Spotify, Pandora, Netflix, and Amazon Instant Video, you might not need to keep a copy around–digital or otherwise. Before determining what to keep and what to discard, check to see whether any of the popular streaming services give you access to your current CDs and DVDs.
Spotify gives users–including nonmembers–free, ad-supported access to its entire library, so it's easy to find out whether you'll be able to stream your favorite albums. If you don't already subscribe to Netflix, sites such as Instantwatcher can help you figure out whether it's safe to throw out your old Buffy the Vampire Slayer DVDs and replace them with a Netflix subscription. (It is, by the way.)
Chances are you'll be able replace some of your music and video collection with a streaming service subscription or two. If there's enough overlap, you might consider dumping your collection entirely to help finance the switch over to streaming. But proceed with caution: The selection of streaming titles on Netflix and other services changes over time; and just because they have your favorite movie today doesn't mean they'll have it next week or next year.
Selling Your Collection
Selling used DVDs is similar to selling used books. Many of the same retailers, like Amazon (on its Movies & TV Trade-In page) and eBay (at Half.com) will buy back your DVDs (or trade you a gift card for them); but as is true when you resell books to a retailer, you shouldn't expect much return on your investment.
Selling used CDs to a retailer can be slightly more complicated. Since most music sales are digital these days, many of the larger online resellers no longer accept CDs for resale. As a result, you'll need to turn to specialized retailers like Spun.com–and they may buy back only selected titles. Also, you're unlikely to receive more than a dollar or two for each CD they do accept, so you might be better off trying to find other ways to make your CD collection work for you.
Selling discs directly to end users at an auction site such as eBay may yield better prices, but auction sites also add considerable complexity to the process, to protect both the buyer and the seller.
Trading in for New Media
If you aren't so much attempting to reduce your holdings as trying to convert unwanted titles into wanted ones, consider trading some of your albums and DVDs. SwapaCD and SwapaDVD are two convenient services that let you trade your old, unwanted CDs and DVDs for new and different discs. At the appropriate site, you simply post a list of discs that you no longer want; then, each time you mail a fellow swapper a disc, you get a credit that you can use to choose a disc of your own from the 364,000 CDs or 250,000 DVDs in the relevant service's listings.
Disposing of Your Discs
If you can't find any use for your old DVDs and CDs, you can always donate them to local charities. Most thrift stores like Goodwill and the Salvation Army happily accept CDs and DVDs in their original cases, but even they are unlikely to have any use for your half-broken copy of Ernest Saves Christmas. To get rid of that type of clutter without simply burdening someone else, you'll likely have to retire at least a few of your DVDs and CDs. When you do, consider sending them to a service such as the CD Recycling Center of America, which will recycle the discs instead of dumping them in a landfill somewhere.
Removing all of the old unwanted media from your life may not be an overnight project, depending on the size of your DVD and CD collections; but with a little effort, you can free up some space, save some money, and even get some new movies and music as a bonus.