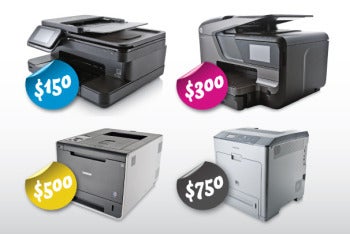 There's the printer you want and the printer you can afford. Where do your budget and your needs meet? To help you decide, we've selected the best models at or around four major price thresholds: $150, $300, $500, and $750.
A $150 printer is in most shoppers' reach, and is almost always an inkjet unit that's designed for low-volume use in home offices, homes, or dorm rooms. At about $300, you get a choice of faster, more capable inkjets, and a few very basic laser or LED models.
Many color laser and LED products come into view at the $500 price point, and at $750 or more, you can begin to enjoy the speed, features, and cheaper consumables of serious office printers.
Know Your Printing Needs
The best printer has the capacity, features, and speed to match what you actually print on a regular basis. Take a few minutes to think hard about what types of things you print—whether it's documents, photos, or something in between—to make sure you get a printer that can produce satisfactory output quality in all areas. Also think about how much you print, to make sure you get enough paper capacity; and how many people need to use the machine, in case you require wired or wireless networking capabilities. Check the chart to the left for a quick profile of the kind of printer you can get with the money you have.
Though multifunction printers appear to be the wave of the printing future, they have some limitations. If your office is very busy, forcing a single machine to juggle everyone's printing, copying, scanning, and faxing demands could overwhelm it—and frustrate your users.
Another considera­tion to keep in mind: If you have a long-term need to scan hundreds or even thousands of pages of documents, a dedicated document scanner that has its own automatic document feeder will simplify that job considerably.
When a Bargain Printer Isn't
If your budget is really tight, check out our favorite bargain, the $100 Canon Pixma iP4920 Inkjet Photo Printer, in "Cheap and Good," below. It makes surprisingly few compromises for the price.
Printers costing less than $100 are rarely worth recommending, as they tend to be slow performers with pricey ink cartridges. The exception is if you print very little—just short text documents, for instance, with little or no color, and no more than a dozen pages per week—because your high ink costs will be spread out over a longer period of time. If you print a dozen or more pages per day, however, or if you want to print colorful pages or photos, you'll be better off with a printer whose inks are economical. (Editor's note: This paragraph was corrected from the version that appeared in the PCWorld March 2012 print issue. The intended advice is that high-priced inks, while not recommended, might be tolerable for people who don't print much. PCWorld regrets the error.)
Features Worth the Price
Whatever your budget, some standout features can differentiate one model from another that's similarly priced. At the top of the list is automatic duplexing, which cuts your paper costs (and tree killing) in half. You should also look for a wireless networking capability—this is fast becoming essential in office and home environments. Check for apps or services for sending print jobs directly via Wi-Fi or email, as well. Among multifunction models, an automatic document feeder (ADF) makes scanning of longer documents much easier. Some models also can print labels on CDs and DVDs. Finally, check the prices and page yields of the printer's ink or toner cartridges, making sure that they match your usage pattern—as well as your budget for ongoing costs.
Now that we've summarized what you should look for, consider our recommendations for each price category.
$150: Well-Priced Inkjets, Decent Costs for Ink
What to Expect
• Single- and multifunction inkjets good for light-volume home or home-office use • Ink costs ranging from reasonable to expensive • Basic monochrome lasers with pricey toner • Average to skimpy paper handling • Occasional highlights such as printing on CDs and DVDs or Wi-Fi connectivity • No color lasers
The sweet spot for consumer inkjets is about $150. You'll find a crowded field of models, most of them offering at least decent features and performance for home and home-office users, plus students. If this is your budget range, keep in mind that these machines are de­­signed for fairly low-volume use: around 15 to 20 pages per day, at most. Monochrome lasers are also available, but we can't wholeheartedly recommend any such models in this price range, as their toner costs tend to be very high.
Our top pick is a multifunction inkjet, the HP Photosmart 7510 e-All-in-One Printer. Though it's billed as a photo-oriented home ma­­chine, it can handle far more than that. Most notably, it posted average or better speeds in our printing, scanning, and copying tests; and it includes an ADF, a feature that's rare at this price level.
Among other standard equipment are a 125-sheet input tray and a 20-sheet photo tray (for media up to 5 by 7 inches in size); and the unit's automatic duplexing applies to both the printer and the scanner. The cherry on this sundae? HP's ink costs are reasonable, meaning no regrets later.
If you can do without an ADF, check out the Canon Pixma MG5320 Wireless Inkjet Photo All-In-One Printer, a multifunction unit that features printing on CDs and DVDs, and that has speedy performance and good print quality. Also, the MG5320's ink-refill costs are reasonable.
As for single-function printers, the Epson WorkForce 60 inkjet offers USB, ethernet, and Wi-Fi connectivity, good paper handling including automatic duplexing, and outstanding speed. Its ink costs are at or below average.
If your budget can stretch a bit more, here's a $200 model worth considering: The Canon Pixma MG6220 Wireless Inkjet Photo All-In-One has cool-looking controls and a color LCD embedded in the scanner lid. (Unfortunately, that means no ADF.) The MG6220 serves up high-quality printouts and decent scans, and it's fast for an inkjet MFP. Its ink costs are on the high side of average. Cheap and Good
If you have just $100 to spend, the simple, capable Canon Pixma iP4920 Inkjet Photo Printer is our top choice. It has only USB connectivity (no ethernet or Wi-Fi), but its paper handling—two 150-sheet input trays, with automatic duplexing—is tops for its class. Its speed is brisk, printing plain text pages at 8.9 pages per minute and photos at average to fast speeds. Print quality is nice, and best of all, ink costs are reasonable: 4.7 cents per page for black and 2.6 to 2.9 cents per page for each color. As a bonus, this model can print labels on specially coated CDs and DVDs.
$300: High-End Inkjets and Monochrome Lasers
What to Expect
• High-end inkjets with bells, whistles, and speed to spare • Simple monochrome lasers • Bare-bones color lasers that operate slowly and provide minimal features • Inkjets that print great photos and color lasers that print horrible ones • Cheaper ink, pricier toner
The $300 range offers an interesting either/or choice: high-end color inkjets with full feature sets, for small-office or high-end home use; and very-low-end lasers for small or home offices. But note that while you can get a pretty nice monochrome laser for $300, a like-priced color model will be slow, lacking in features, and expensive to replenish.
Our top pick within this price range is the $300 HP Officejet Pro 8600 Plus e-All-in-One Printer, a state-of-the-art inkjet MFP in nearly every respect. Best of all, its ink costs are among the lowest we've encountered.
The Officejet Pro 8600 Plus has both speed and features. It posted a record-setting speed of 13.2 pages per minute printing plain text, and was pretty fast at printing photos, copying, and scanning, too. Its many features in­­clude universal automatic duplexing—for copying and scanning, plus printing—and full support of legal-size paper, both on the flatbed scanner and in the 50-sheet ADF. However, it can't print on a CD or DVD, and its context-sensitive touch controls seem slow to react.
This high-end model is also ready to print from your smartphone or tablet, or from a remote location. HP's free ePrint service lets you email print jobs to the Officejet Pro 8600 Plus or any other ePrint-enabled HP printer.
Aimed at the home user who wants pretty much everything is the $300 Epson Artisan 837 Color Inkjet All-In-One. This unit, clad in a distinctive midnight blue, provides CD and DVD printing, plus an ADF. Speed is above-average for mainstream documents, and fast for photos. The six-ink printing system helps produce stunning photos (if somewhat soft, slightly gray text), and the replacement costs are low. Epson is also catching up with our increasingly smartphone- and tablet-riddled world, offering Email Print for sending email from a mobile device to an enabled Epson printer, and iPrint for direct printing via Wi-Fi to compatible iOS and Android devices.
Looking for a nice, simple monochrome laser? The $300 Dell 2350dn Laser Printer offers small and medium-size workgroups peppy performance, impressive print quality, and reasonable, midrange toner costs. It has automatic duplexing, and you can augment its standard 250-sheet input tray and 150-sheet top output tray with a second, 550-sheet input tray for $100. It printed plain text pages at a swift 22.8 pages per minute.
$500: Monochrome and Low-End Color Lasers
What to Expect
• Color laser printers and MFPs for small offices and workgroups • Basic office paper capacities of 150 sheets or more • Automatic duplexing available on some models • Expensive toner costs • Poky printing
If you have $500 to spend, you'll find many low-end color laser models in reach, geared toward small offices or workgroups. But these models all have some imperfection: slow performance, expensive toner, or a feature that falls short. To get more, you'll have to pay more.
Our top pick is a single-function color laser printer, the $500 Brother HL-4570CDW. With a low price for this printer category, it has a generous feature set. Connectivity includes USB, ethernet, and Wi-Fi. It has three standard paper trays: a 250-sheet main input for letter and legal-size paper, a 50-sheet multipurpose feeder for envelopes and thicker or odd-size media, and a 150-sheet top output bin. You get automatic duplexing, too.
Performance is also competent. The HL-4570CDW printed plain text pages at an above-average rate of 16 pages per minute. Even on photos it managed a competitive speed of 3.2 ppm.
As with many lower-cost color lasers, photo quality is an issue. Color graphics and photos on plain paper looked slightly dull and exhibited distracting moiré (background patterning). Changing to higher-quality settings and using glossy laser paper helps somewhat.
Among multifunction units, the $549 Oki MC361 Color MFP is a laserlike, LED-based product that prints impeccably sharp (though somewhat shiny) text, at a good clip. Where it falls short is in graphics quality, which is grainy and oversaturated, and in setup, which is less automated and documented than it could be. Toner costs are mediocre.
If you have a bit more to spend, consider the $600 Canon ImageClass MF8380Cdw color laser MFP. Its higher price buys you a 250-sheet main paper tray, a 50-sheet multipurpose tray (for envelopes and other odd sizes and thicknesses), and a 50-sheet automatic document feeder, plus a 150-sheet output tray. It can print and scan both sides of the paper automatically. Connectivity includes USB, ethernet, and Wi-Fi. The toner costs are about average.
The MF8380Cdw is slow for a workgroup laser MFP, but its output was good. Text looked extremely sharp, and monochrome graphics were truly black-and-white, with no color cast. Photos were slightly grainy, but had a warm palette (flesh tones looked orangey).
If a sub-$500 color laser MFP is what you want, consider (with caveats) the LED-based Dell 1355cnw Color MFP (find.pcworld.com/71552). It costs just $420 and offers full multifunction capabilities, plus Wi-Fi. It also yielded some of the best photo quality we've seen from any color laser or LED printer.
The 1355cnw is slow, however, and its consumables costs are high. Its lower-yield (700-page) toner replacements are extremely expensive, but at least its higher-yield ones (rated at 2000 pages for black, 1400 pages for each color) come tolerably priced.
$750: Fast Lasers, Cheap Toner, and Features Galore
What to Expect
• Office machines for small to medium-size workgroups • Monochrome lasers that are fast and hold lots of paper • Color lasers with good speed and generally better print quality than their lower-end cousins can provide • Multifunction models that can handle a heavier volume • Cheap toner in most cases
Any workgroup of small to medium size can get a good monochrome or color laser/LED printer for around $750. But keep an eye on the toner costs.
The versatile, $750 Sam­sung CLP-775ND Color Laser Printer is our top pick. It breaks no new ground in output quality—photos are a challenge for it, as they are for most color lasers—but it's fast and well equipped, and its toner is economical.
Standard features include automatic duplexing; a 500-sheet main input tray and a 100-sheet multipurpose tray for envelopes and other thicker media; and a 350-sheet output tray. You may add up to two more bottom-mounted, 500-sheet feeder trays. One concern: The transfer belt (a page-wide plastic band that helps convey toner from the cartridge to the paper) is fully exposed when you open the printer's front panel, just asking you to drop something on it.
With a 600MHz dual-core processor and 384MB of memory (expandable to 896MB), the CLP-775ND posted a fast time of 18.1 pages per minute printing plain text. Even color photos came out quicker than average. But the quality of the pictures is more pedestrian: Color images have an orange tinge as well as a noticeably grainy background.
No need for color? The Oki B710dn monochrome laser printer is a classic workhorse. At $775 (list), it has a tremendous duty cycle of about 250,000 pages per month, and paper capacity to match, offering a 550-sheet main input tray and a 150-sheet multipurpose tray for thicker media; a second 550-sheet input tray is optional. The output tray holds 500 sheets.
Printing plain text, the B710dn had a fast time of 22 pages per minute. The 15,000-page combination toner cartridge and drum costs $301, or just 2 cents per page. Oki is known for ease-of-use shortcomings, but this model re­­mains a good buy.
Xerox's WorkCentre 6505/DN offers better speed and print quality than many color laser MFPs we've seen, especially for $749. While other models might create garish or grainy images, the WorkCentre's were realistic (though slightly light in coloring). Its replacement toner is expensive.
If you'd rather just save money, consider the $700 Brother MFC-9970CDW, which tackles the full laundry list of small-office and workgroup print/copy/scan/fax needs, includes a legal-size scanner, and offers cheap toner to boot. Just note that this unit's photo quality is middling, and that its color scans can be overly dark.
These days, good printer choices can be had at any budget level. Check your wallet and gauge your needs, and you shouldn't be disappointed.