At a Glance
Expert's Rating
Pros
Friendly interface
Good malware detection and blocking
Cons
Lacks some common features
Our Verdict
Avast's latest security suite is effective in defending against malware, but it could stand to improve in cleanup.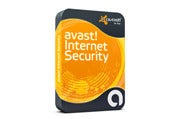 A solid choice for keeping you safe, Avast Internet Security 6 ($50 for one year and one PC as of January 25, 2012) finished sixth in our 2012 roundup of security suites. Although it ranked in the bottom half of our Top 10, the Avast package is easy to use, and in general it will protect your PC quite capably.
Avast's suite blocked 96.2 percent of malware in our real-world tests, which help determine how well security products can stop brand-new malware. With that result, it placed near the top of the pack; even so, the very best performers in our test group were able to stop all attacks. The Avast suite also managed to stop 99.75 percent of known malware samples, which is an excellent showing, but again, not the absolute best we've seen (our top performer detected over 99.99 percent of samples in this test). It achieved a perfect score in our false-positives test, flagging not a single safe file as being potentially malicious.
Regrettably, although the Avast software proved adept at identifying and neutralizing all infections on our test PC, it left more malware remnants behind than many of its competitors did.
System slowdowns shouldn't be a serious issue with the Avast suite, though overall it wound up near the middle of the pack in that respect. It added barely any time to file downloads as compared to our test system without antivirus software installed. Its scan speeds were faster than the average of the products we tested: It completed our on-demand scan test (in which we scan 4.5GB of data using the manual scanner) in 1 minute, 21 seconds–one of the fastest performances we saw this year–and its on-access scanner (which runs when the user opens or saves a file) completed its check of 4.5GB in 4 minutes, 1 second, a slightly better time than average.
In my hands-on testing of Avast Internet Security, I found it generally easy to use and navigate. Its installation process was fairly straightforward, asking me to click though only three screens before it was complete, though it did require me to restart my PC. Once installed, the Avast software does an initial scan of your system. The main interface is little changed from last year's suite, which isn't necessarily a bad thing–it's clean, attractive, and easy to navigate. Along the left side are tabs that let you access settings for the suite's main features. The settings are fractured to some extent, since the software doesn't have a unified 'Settings' panel; instead, it breaks up settings by function. If you want to change the firewall settings, for instance, you have to look under the Firewall tab. Admittedly, this arrangement does make settings less intimidating to beginners.
The interface is visually appealing, with lots of graphs and charts. The look makes the suite friendlier for less advanced users, but it might be a little distracting for some people. I also found that the Avast software popped up notifications in the lower-right corner a little more often than I would have liked.
Avast Internet Security 6 isn't the most feature-rich suite we tested this year–it lacks some common functions found elsewhere, such as parental controls–but what it does provide, along with its strong protection against malware, should suffice for most users.