At a Glance
Expert's Rating
Pros
Effective at blocking malware
Cons
Occasionally sluggish performance
Our Verdict
The latest F-Secure suite is quite capable of keeping your machine safe, but it may drag your PC down at times.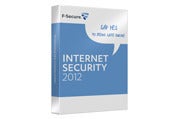 If you can tolerate some sluggishness, F-Secure Internet Security 2012 ($60 for one year and three PCs as of January 25, 2012), which placed eighth in our 2012 roundup of security suites, will protect your PC pretty well.
F-Secure's suite put up decent all-around scores for malware detection, though it fell somewhat short of the top contenders. With a 96.2 percent blocking rate in our real-world tests (which indicate how well a suite can stop brand-new, as-yet-unknown malware), it's generally on a par with its competition. Its 99.91 percent detection rate for known malware is also very good. The F-Secure package found and removed all test infections on our system, and it cleaned all malware traces 60 percent of the time (which is just about average compared with the other products we tested).
It did report four false positives; that's a tiny percentage given our sample size, but several of its rivals had one or zero false positives.
The F-Secure software's impact on PC performance was fairly low for the most part, though it wasn't the fastest suite we've seen. The 15 seconds it added to PC shutdown times (as compared to our test PC with no antivirus software installed) was among the worst results we saw on that test; it also faired poorly in our app-installation test, completing the task in 3 minutes, 12 seconds. That outcome was a good 22 seconds slower than the average time for the suites we evaluated, and only 3 of the 14 suites we looked at had a larger impact on performance in this test.
Scan speeds were pedestrian: In our on-demand scan test (which indicates how quickly a suite will run a manually initiated scan of 4.5GB of data), the F-Secure software took 2 minutes, 43 seconds, the second-worst result on this measure. In our testing of the on-access scanner–which runs when you open or save a file to disk–it required 4 minutes, 21 seconds to plow through the same 4.5GB of files, landing at the middle of the pack.
Overall I appreciated F-Secure's basically easy-to-use interface. The installer was fairly straightforward, though it did require me to click through more screens than I would have liked. F-Secure's main interface is based on the Launch Pad, a small window that you use to access the Internet-security and PC-security settings windows–the two feature sets are organized separately from each other. I wasn't crazy about this arrangement, since it merely added another screen that I had to pass through to get where I was going; I don't see why F-Secure can't combine the two categories into a single control panel.
Although the panels for the Internet-security and PC-security sections are laid out nicely, they're almost identical, so it's easy to get them crossed up. When you delve into the settings, you'll find that the interface is clean, but some features could use better descriptions. For example, you must go into the help system to learn what DeepGuard is (it monitors how programs behave, as well as the contents of files, to identify malware).
All things considered, F-Secure Internet Security 2012 is a good product. It'll do an effective job. This year's competition is stiff, however, and F-Secure doesn't quite keep up with the leaders of the pack.