At a Glance
Expert's Rating
Pros
Good protection against malware
Cons
May hurt your PC's performance
Slow scan speeds
Our Verdict
While Check Point's ZoneAlarm security suite is a reasonably solid protector, it may drag down your PC's operations.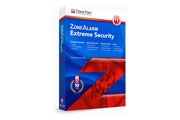 Check Point's ZoneAlarm Extreme Security 2012 ($80 for one year and three PCs as of January 25, 2012) rounds out the top ten in our 2012 roundup of security suites. Like several of the other lower-ranking products we tested, the suite isn't bad, but it's merely very good while the top performers are great.
ZoneAlarm fully blocked 92.3 percent of live attacks in our real-world tests, which help determine how well a security suite can stop brand-new malware. That isn't a bad showing, but it does lag slightly below the average for the suites we looked at. It detected 99.17 percent of known malware samples; although that result would have been strong one year ago, this year it's merely average.
This suite wasn't especially good at cleanup, either: Despite detecting all infections on our test PC, it disabled only 90 percent of them. A year ago, that would have been a great outcome, but most products we tested this time around successfully disabled all test infections. ZoneAlarm removed all malware components just 40 percent of the time, too, tying for last in that test. Fortunately, it didn't flag a single safe file as being potentially malicious.
Even though ZoneAlarm had a moderate impact on system performance on the whole, it added a staggering 24 seconds to our PC's shutdown time (compared with how long the system took with no antivirus software installed), easily landing at the back of the pack in that particular test. It was also one of the worst performers in our app-installation test–it added 72 seconds to the completion time, which is about 28 seconds longer than the average.
Scan speeds were mixed: ZoneAlarm required 2 minutes, 53 seconds to finish our on-demand test, which shows how quickly a suite can complete a manually initiated scan of 4.5GB. This showing was second-slowest result we saw in the 2012 test group. Its on-access scanner took 3 minutes, 45 seconds to plow through 4.5GB of data, which was the third-best result we saw this year. Since the on-access scanner runs when you open or save a file, it's a little more important than the manual on-demand scan, so we were happy to see that ZoneAlarm performed well in this area, at least.
Check Point did reasonably well on the interface. The main screen gives you a good idea of whether your PC is protected, and sections are nicely arranged and fairly easy to use. It has slider controls that make it easy to toggle features on and off, as well. The settings screens are decent, but inconsistent at times. One in particular–the Antispam settings window–looks like a holdover from an older version of ZoneAlarm software, and it doesn't work the way the other panels do.
On the plus side, ZoneAlarm Extreme Security comes with a few extra features, such as credit report monitoring, which you may find useful. At the same time, though, it lacks some features that are common in other suites, and its support options appear to be scant.
If you already use ZoneAlarm products and like them, you should upgrade to this newest version. Otherwise, while ZoneAlarm Extreme Security 2012 is a good all-around package, you should consider some of the higher-ranking suites first.