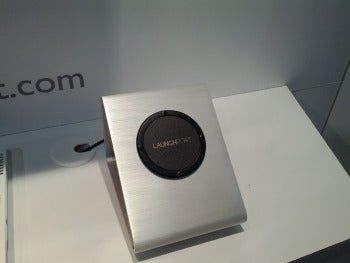 Apple's popular tablet can now be charged using the same technology that is built into some of the high-end cooktops on the market today — induction.
Inductive charging technology had a big presence at the Consumer Electronics Show in Las Vegas earlier this month, and one product displayed there can wirelessly charge an iPad 2.
The LaunchPort system works by encasing an iPad 2 in a sleeve called a PowerShuttle that either mounts to a tabletop BaseStation or a WallStation. The system uses induction — the production of an electric current across a conductor moving through a magnetic field — which means as soon as a PowerShuttle is magnetically mounted to a station, wireless charging begins without a 30-pin cable connection.
The system is interesting on a couple of levels. The inductive charging is going to be agreeable to anyone who likes the aesthetic of having no wires. In addition, both stations let you rotate the tablet 360 degrees.
Also, the PowerShuttle sleeve that encases the iPad 2 has a built-in wave guide that amplifies sound coming from the speaker, so whatever you're listening to actually sounds louder when emanating from the sleeve. The sleeve's magnets also let you stick your iPad onto a refrigerator or work bench, if that's something you might find useful.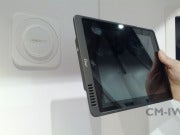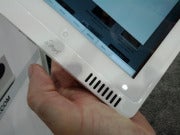 Here's an idea: Use the LaunchPort system along with a Harmony Link and now your iPad 2 is a universal remote that's always charged for controlling multiple home entertainment center components.
To use the WallStation you'll need a handyman to wire it behind your drywall, or hack into your wall yourself.
One knock, though.
You're going to have to throw down $350 to get the sleek-looking system. Even though the inductive charging might be worth a bit more, you can get an iPad 2 Frame for $130, although arguably the LaunchPort tabletop BaseStation is situated at a more ideal angle for actual use compared with that of a frame.
Check out the promotional video:
Follow Christina on Twitter and Google+ for even more tech news and commentary and follow Today@PCWorld on Twitter, too.