Firefox tab features slated for the upcoming version may not be available until the following iteration, upsetting some fans who could ditch the web browser and use a competitor's instead — a development that would be good news for Apple's Safari and Google's Chrome.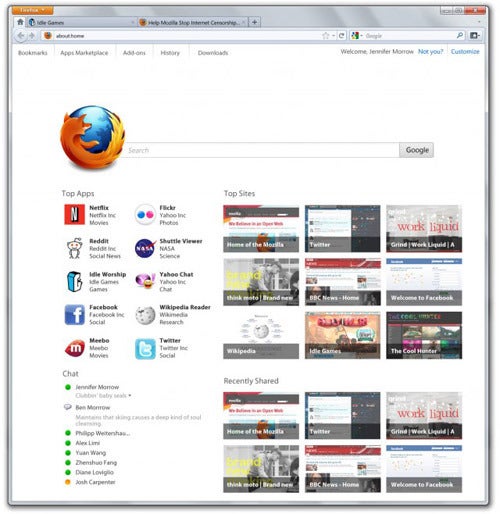 Both the home tab and new-tab page features initially reported as slated for Firefox 12, which is to be released in April, may not appear until Firefox 13, according to ExtremeTech.
"It now looks like at least the Home Tab, and possibly the New Tab Page, will not arrive until Firefox 13; they just weren't ready for Firefox 12," it reported on Sunday.
Other reports over the weekend based on nightly builds of Firefox 12 said that edition of the browser would have a new-tab page feature, similar to what's found in Safari and Chrome, and a revamp of the home tab page.
With the new-tab feature, whenever a blank new tab is launched, Firefox would display a 3-by-3 matrix of thumbnails of your most visited sites.
You can edit the thumbnails. They can be reordered within the matrix through drag and drop. Thumbnails can be hidden or "pinned" to their position in the matrix.
The home tab changes are more ambitious and will come in two phases. Phase one calls for a clean and simple page with a row of "launchers" at its bottom. The launchers give you quick access to tools, such as bookmarks, history, settings, add-ons, web apps and downloads.
Phase two completely overhauls the home tab. It adds a new toolbar and direct access to Google Chat. It also incorporates the thumbnail matrix display used in the new new-tab feature. There's a matrix of "top sites," for example, and one for "recently shared" sites.
There's a "top apps" section with shortcuts for webposts like Netflix, Facebook, Twitter and such.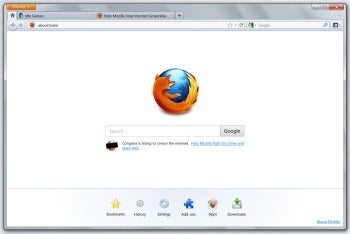 Those tab features, though, probably won't be seen until Firefox 13, which doesn't have a release date yet, although it's expected to be sometime at mid year.
Two things that will be in Firefox 12 are auto completion of web addresses and deeper integration with Web applications.
With auto completion, Firefox will automatically complete a URL that you start typing in the address bar based on information from your browser history or bookmark library.
Firefox 12 will enter its Aurora phase on January 31. Final release is expected in April.
With Mozilla's rapid release schedule for Firefox, it's not surprising that things can be a little confusing from time to time. The breakneck pace allows Mozilla to incorporate new features into Firefox faster, but it can create more pain than some users are willing to bear, users like "John S," a commenter at ExtremeTech.
"Thanks but no, thanks, [F]irefox," he wrote. "I've moved on."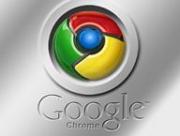 "Your fast release schedule has put me out in the cold," he continued. "My add-ons are broken, and new bugs pop up every week. In fact, this is all academic, because your lost update broke my ability to use your browser at all. It won't start, and no matter how many times I uninstall and reinstall, the problems remains the same."
"So, it's Chrome for me," he concludes.
Follow freelance technology writer John P. Mello Jr. and Today@PCWorld on Twitter.