At a Glance
Expert's Rating
Pros
Flexible
Free
Extremely reliable and effective
Cons
Unchangeable left-to-right copy or mirror
Our Verdict
Create and maintain regular, up-to-date backups of critical files with this great, free tool.
Most of us don't back up our files nearly often enough. I'm not sure I like living on the edge–after all, one wrong move with a coffee cup or one misstep at the airport security line could lead to a laptop disaster. I'm not sure why I don't back up as much as I probably need to, but at least some of the reason is the inconvenience and intrusiveness of backup software.
I recently bought a new computer and needed to move a lot of customizations, programs, and data files to the new machine from the old one, which I would then reformat and wipe clean. I needed something that was, most important, reliable, as the original copies of the backed up files would no longer exist when I finished. I wanted a tool that didn't just try to copy everything from point A to B, but checked to see whether the file at the destination was different from the origin before wasting all that time copying and overwriting the very same files. Finally, it needed to be easy to customize and quickly run on a regular basis, to eliminate that final inconvenience issue.
Where I landed was on Microsoft's supremely understated, free utility, SyncToy. Version 2.1 has been around since 2009, but still works perfectly in both the oldest and newest versions of Windows. It's a Microsoft .Net Framework 2.0 application, so you'll need to install that prerequisite before SyncToy, but once you do, it takes only seconds to install.
Everything in SyncToy is organized around Folder Pairs, which is just a shorthand way to indicate an origin location (which SyncToy calls the Left Folder) and destination location (which SyncToy calls the Right Folder) for the files you want to move around. I know why you need an origin and destination; I have no idea why SyncToy names those folders Left and Right, and not after their roles. It's not a deal breaker, but the use of relative directions for the names of the folder pair elements is a major conceptual gaffe.
Once you set up your pair of folders, you have to choose one of three methods by which SyncToy will carry out your task: Synchronize copies changed files both ways and keeps the contents of a pair of folders identically matched; Echo copies new or updated files left to right and mirrors renames and deletions on the left to the right. Contribute copies new or updated files left to right, but unlike Echo, doesn't delete anything. You can further customize folder pair behavior by setting up custom exclusion lists, with or without wildcards, of file types and properties such as size, date, or name. Scheduled sync jobs run unattended, even if you're logged off at the time, so long as the destination drive is connected.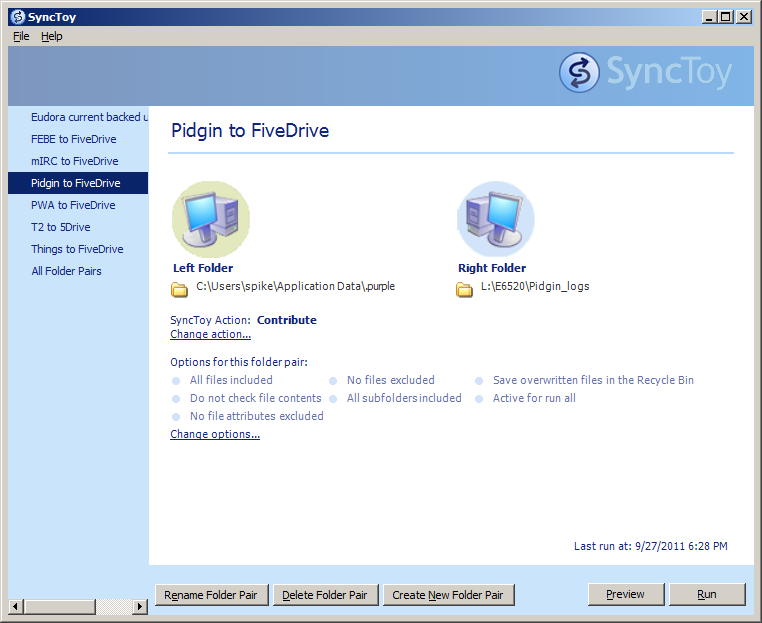 Folder Pairs get the job done, but one thing that's missing is the intelligence a backup program would bring to the table. With SyncToy, I'm responsible for figuring out where my programs store the data files I might want to back up. I'll typically back up my user profile, which includes everything on the desktop, as well as documents, templates, photos, work files, downloaded programs, and other useful stuff I wouldn't want to lose. Once I do that, the backing up part is easy, but in order for me to back up my browser configurations, plug-ins, IM chat logs, and downloaded email and attachments, I needed to hunt down each origin folder first and generate a pair for each. That wasn't a problem for me, but it would have been a huge problem for, say, my mom.
Once the pairs are in place, you can run them individually, or all together in a batch. The most frequent error that crops up happens because one might be trying to copy a data file, like an IM chat log, while the log file is still open for writing by Pidgin. When that happens, the program increments a counter in the Failed column on the program's results window. The prominent link to a text error log usually leads to a successful resolution of the issue. In this case, you'd just have to quit out of Pidgin and the files then could be copied.
SyncToy isn't perfect, especially not for the novice user who may need a lot of guidance to find the multitude of locations on the file system where you'd want to back up stored files. But for power users who know what they want, SyncToy delivers powerful file management in a puny, less-than-1.5MB package. So stop making excuses and back that stuff up before it's too late.
–Andrew Brandt