At a Glance
Expert's Rating
Pros
Slick interface
Keeps malware off your PC
Cons
Struggles at infection cleanup
Our Verdict
Webroot's revamped security suite has a lot to like, but its low malware disinfection scores prevent it from becoming a top contender.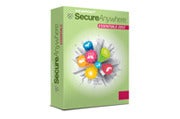 Although Webroot Secure Anywhere Essentials 2012 ($60 for one year, three PCs as of January 29, 2012) finished toward the back of the highly competitive pack in our 2012 roundup of security suites, Webroot's newest offering shows lots of promise. SecureAnywhere represents a complete overhaul of Webroot's product line, with a brand-new interface and new internals to go along with it. The package is fast, and it's good at catching malware before the invader reaches your PC, but a higher-than-average false-positive rate and disappointing system-cleanup results keep it from ranking any higher.
Webroot's new offering is effective at stopping brand-new malware, as it blocked 96.2 percent of attacks in our real-world malware detection tests. That result pegs it right around average in this year's tightly bunched field. It also detected 99.49 percent of known malware samples–that's a better-than-average outcome, though a little short of the best performers, some of which detected over 99.99 percent of samples.
In a couple of areas, however, the Webroot suite struggled: For instance, it mistook 11 known safe files (out of a pool of over 250,000) as being potentially malicious. Although that is quite low percentage-wise, it was the poorest false-positive showing of the suites we looked at this year.
More worrisome was its inability to clean up malware that has already infected a PC: Webroot's package detected 60 percent of active malware infections, and managed to render just half of the infections inert. On both fronts, that was the poorest showing of our test group; the majority of the 2012 suites we evaluated were able to detect and disable all active malware infections on our test system. According to Webroot representatives, the company recently made some changes to the way its software cleans up malware infections that it says should improve matters. That said, we were unable to retest Webroot's claims of improved performance as of press time.
Webroot says that its new cloud-based SecureAnywhere suite is lightweight, and won't hog system resources. For the most part, that claim held true in our testing, as SecureAnywhere was the overall winner in our system-speed tests. Its impact on PC performance was minimal: It added less than half a second to PC startup time (as compared to our test PC with no antivirus installed), and it barely slowed file-download and file-copy operations.
Scan speeds were equally impressive. Webroot's suite completed our on-demand scan test–which shows how long a suite takes to check 4.5GB of files in a manually initiated scan–in a scant 59 seconds. That was easily the fastest time we saw in this particular test, and it was a full minute better than the average for the suites we looked at. The on-access scanner–which kicks off when you open or save files to disk–tore through 4.5GB of data in 2 minutes, 4 seconds, finishing 30 seconds faster than its nearest competitor. To put that latter test into context, the average completion time for the suites we evaluated was 4 minutes, 48 seconds.
We like Webroot's revised interface, too. Installation is a breeze–open the installer, enter your license key, and then click 'Agree and Install'. Once installed, the software will check your PC for malware. The main interface is nicely laid out: Five tabs along the left side of the main window let you access the suite's main features. The advanced settings screens can be a little technical in spots, but they too are well organized.
Despite its low ranking, Webroot's new product line offers a lot to like, and we look forward to seeing it develop over time. But should you buy it right now? If you're an existing Webroot user, Secure Anywhere Essentials 2012 is a definite improvement. For users of other products, we can't give Webroot SecureAnywhere a recommendation just yet. Nevertheless, if Webroot sorts out its malware-disinfection issues, SecureAnywhere might just turn into a real contender.