Among the many options for storing information digitally, the biggest players in the note-taking software market are OneNote and Evernote. These applications come in handy for taking notes, making lists, managing projects, storing and organizing information, and sharing it with others.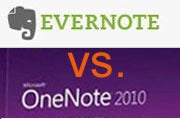 OneNote has been part of Microsoft's Office suite since 2003. It emulates the way a traditional binder works, with pages of notes organized into sections and stored in notebooks. OneNote is unique in that it allows you to add content anywhere on the page. Sadly, it is not included in the Mac version of Office, but Microsoft has released mobile apps for iPhone and iPad.
Evernote opened to the public in final form in 2008, and it has since grown quickly to 20 million users. Evernote can store all kinds of information in notes, including Web clippings and attached files as well as audio and video notes. With desktop apps for Windows and OSX, full-featured mobile apps for Android, iOS, Blackberry, and WebOS, and a strong Web app, Evernote's best feature may be its cross-platform compatibility. It's also free, with extra features for users who sign up for a $45/year Premium account.
Both Evernote and OneNote cover the basics of organizing and storing information, but each goes about it in a different way. I have both programs installed on my desktop, laptop, Windows tablet, iPad, and Android phone (I do have to use a third-party program to access OneNote on the Android phone), and both applications play an active role in my writing and teaching.
Basic Text Notes
Text notes are the most basic form of note-taking, and the format you're most likely to use if you carry a laptop to meetings. Both programs handle text as a basic word processor does, with rich text editing options.
Evernote's text editing interface is clean and easy to navigate, with options similar to what you would find in a Web editor like Google Docs. When you start a new text note in Evernote, you'll just get a blank space to write in, but rather than being divided into pages like a Word document, the text appears as one giant block.
OneNote's options are very similar to Microsoft's Word, including the ribbon interface. If you're used to Word, finding options in OneNote should be similar, but the look is more cluttered than Evernote's interface. One major difference with OneNote's layout is that text is contained in boxes, which you can move anywhere on the page. You can drag and reorganize your thoughts around the page without having to cut and paste.
Winner: Evernote is the better tool for basic text notes due to its cleaner interface. If you need more complex formatting, OneNote would be the better choice.
Multimedia Notes
Sometimes you need to add more to your notes than words alone–a chart or an image, say, or even an audio recording of the meeting. Both OneNote and Evernote let you add images, audio, video, and files including Word documents or PDFs to your notes.
In Evernote, files, audio, and video are added as attachments to notes, while images are added inline. You can add images from your computer, or take a new snapshot with your webcam. Audio attachments are limited to 2 hours in length if you're a free user, and 4 hours for Premium users. Video is limited to Premium users only.
With OneNote, you can add multimedia items anywhere within a note. Starting an audio or video recording will create an icon for the file in the note, and selecting that icon will bring up playback controls. Images also appear in line with your notes, and you can resize and reposition them. When you drag a file into your note, you choose between inserting a link to the original file, inserting a copy of the file onto the page, or inserting the file as a printout so you can read it directly from within OneNote and even add notes on top. All of these elements are independent on the page and can be moved around separately.
Winner: Evernote is great for grabbing quick audio recordings if you just have your phone with you, but OneNote syncs your notes to the audio or video playback and can even index spoken words for later search, making it a better reference tool for longer recordings.
Ink Notes
Sometimes handwriting notes as if you had pen and paper is the most comfortable way to store information. It can be especially handy in a meeting to have a tablet flat on the desk and write with a pen, rather than having a laptop open, creating a barrier between you and the other attendees. Unlike pen and paper, "ink notes" in either Evernote or OneNote are indexed and searchable just like notes you've typed in.
With Evernote, you can choose to create an ink note to take handwritten notes, but that's all you'll be able to do with it. Ink cannot be mixed with any other type of content using the desktop application, and you cancreate ink notes only with the Windows desktop application. You'll be able to view your ink notes on other platforms, but not create new ones. Some mobile apps that sync with Evernote also support ink notes, like the Notes app on the HTC Flyer tablet, but those are third-party.
OneNote has a far more robust inking system thanks to Microsoft's years of work with tablet PCs and handwriting input. You can place ink anywhere in a note, including on top of documents you have printed in. The ink is contained in a box like text, and can be selected and moved anywhere on the page. You can leave your ink as ink, or have it converted to text. OneNote also has more color and pen-size options including highlighters and shapes. One of my favorite tools in OneNote is the ability to add blank space between things you've already written–you don't have to try cramming some added thought in between two lines, you can just create more space.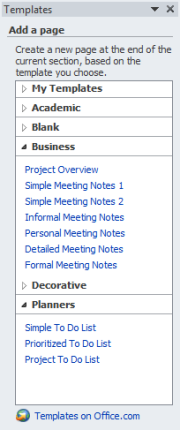 Winner: OneNote wins hands down on handling ink. If you like writing by hand or need to mark up documents, OneNote is the clear choice.
Templates
Templates are great for a variety of situations. Meeting notes, calendars, to-do lists, charts, forms, and reports are all much easier to create if you already have a template in place. OneNote comes with a variety of templates, and you can also make new templates from any existing page. You can also choose from a variety of lined and ruled backgrounds for taking handwritten notes. Evernote will give you a blank page for typed notes, or lined yellow paper for ink notes. It offers no other options.
Winner: OneNote wins this one by default. The best you can do with Evernote is creating lists with checkboxes for To-Do items.
Next Page: mobile tools, collaboration, pricing, and conclusion…
Capturing Information on the Go
The full-featured desktop versions of OneNote and Evernote are nice when you're at your desk in your office, but when you're out and about and need to take down information on the go, you need a mobile app.
In this regard, Evernote has the more robust collection of mobile offerings. Evernote has just released an update for Android, and also offers apps for iOS, Blackberry, Windows Phone 7, and WebOS. Several spin-off apps are more focused on specific tasks, such as remembering people or food, helping you study, or letting you scribble with a finger or pen. You can create new notes with a rich text editor, add photos from the gallery or the camera, add audio or video (Premium only), and geo-tag notes so you can remember where in the world you created them. The mobile apps also display all types of content, including images and ink, and open attached documents using an office suite or other reader on your phone.
OneNote mobile comes with Windows Phone 7, and Microsoft has released a mobile version of OneNote for iPhone and iPad, and most recently Android. There are also several third party tools such as Mobile Noter. These apps are all limited in the amount of editing they can do, and none of them will display ink.
Winner: Evernote. It is available on more platforms and will display all types of content. Evernote's mobile app also has a more full-featured editor.
Organization and Reference Tools
One of the biggest differences between the two applications is in the way they organize your notes–an important factor for choosing one, as the way you access the stored information will have the most impact on your workflow.
Organization in Evernote is three levels deep–notebook stacks, notebooks, and notes–leaving you to rely more on tags and searching to keep things organized and find notes later. Evernote runs Optical Character Recognition (OCR) to enable searching text in attached documents and ink notes on its server. I've found that most of my images and ink notes become searchable within 24 hours, even with a free account, although Premium members get priority in the OCR scanning queue, making their notes searchable sooner.
OneNote is designed to mimic a collection of spiral notebooks, with metaphors of tabs and pages. It has six total levels of organization–notebooks, sections, subsections, pages, and two levels of subpages. OneNote also has a system of links that allow notes to contain links to other notes, or to a Web page, a Word document, or a PowerPoint presentation.
OneNote uses Windows' handwriting recognition engine to recognize and index handwritten notes, text in images, and linked files so you can search them on the fly. You also have an option to have OneNote index spoken words in audio and video notes. Audio and video notes are linked to whatever you were writing or typing at the time they were recorded, so you can see exactly what you wrote down during a specific point in the recording.
Winner: OneNote has a more robust organization and indexes more types of content for later searching.
Web Tools and OS Support
If you're away from your main computer, you can still access notes via a Web browser with both programs.
Evernote's Web app looks almost identical to the desktop version. The only thing missing is the capability to resize columns and create ink notes. The Web app also has links to share your notes via Facebook, Twitter, or email. Font choices are more limited in the Web app.
The Web app version of OneNote is laid out a little differently. In the desktop version, you see all your notebooks on the left, sections and subsections across the top, and pages and subpages on the right; on the Web app you open one notebook at a time, and all the nested navigation layers are on the left. The Web version still lets you put items anywhere on a page and freely move them around.
It's a good thing the OneNote Web app displays and interacts with content so well, as that's the only way you'll be able to see your notes on anything other than Windows. OneNote is not included in the Mac version of Microsoft Office, and it does not play well in Linux using Wine. On the other hand, Evernote has desktop applications for both Windows and OSX, and while there is no Linux client, the Windows version runs well under Wine, and you can find third-party alternatives like Nixnote (formerly Nevernote) that work with the Evernote API.
Winner: Evernote. While you can get OneNote only on Windows, Evernote also has a Mac version, more mobile options, and a Web app that behaves more like the desktop version.
Sync and Collaboration
One of the biggest advantages to storing your notes digitally is that they can be synchronized among all of your machines, and shared with others for collaborative work.
Evernote syncs automatically in the background every 15, 30, or 60 minutes, or once daily. You can share your notes with others, but to give them write access for collaborative editing, you have to be a Premium subscriber.
OneNote syncs in the background by pushing changes among shared notebooks on multiple machines. Collaboration on a shared note does not require locking the document; changes just show up highlighted in a new color based on who added to the note. OneNote also stores previous versions of notes, so you can go back if you need to. The ease of sharing and editing from the same blank page makes OneNote work well as a collaborative virtual whiteboard.
Winner: OneNote's instant sync and open collaboration tools make it better suited for teamwork.
Price
Evernote is free on all platforms, but you'll get some extra features for subscribing as a Premium member at $5 a month, or $45 for the year. These extras include 1GB of uploads per month (free users get only 60MB), offline notebooks on iOS and Android, faster OCR, PDF search, no ads, and the option to let other users edit your notes.
OneNote is included with Microsoft Office Home and Student ($119), Home and Business ($199), and Office Professional ($349). It's also available as a stand-alone program for $79. The Web app is free. OneNote mobile on iOS is free for the first 500 notes, but if you have more than that, you'll have to pay $5 for the iPhone version or $15 for the iPad.
Winner: Evernote is free, and that's hard to beat.
Which Tool Is Best for You?
Both note-taking tools are full-featured, with different strengths. Evernote is great as a quick reference tool, since you can add or look up any kind of note from almost any device, but it lacks the depth of organization and integration of OneNote. For more in-depth projects or longer form notes, I gravitate towards OneNote, due to its deeper organizational tools. OneNote's superior syncing and sharing tools also make it more suited to team collaboration, brainstorming, and whiteboarding, whereas Evernote works well as a shared repository of reference material. Even if you don't use Microsoft Office, OneNote may be worth the $80 stand-alone price if ink notes, deeper organization, linking, and put-anything-anywhere-on-the-page notes appeal to you.
Winner: Going category by category, Evenote wins five to four, but since note-taking and information organization are such personal tasks, any one of those categories may sway you toward one or the other.