At a Glance
Expert's Rating
Pros
Category leading performance
Power efficient performance
Cons
AMD's 3D support is rather thin
Our Verdict
AMD's latest takes the performance crown, gracefully.
It's graphics card season again, and AMD is leading the charge with a new flagship GPU, the $550 Radeon HD 7970.
It's the start of their new 7000 series, which are built around a new shader architecture that AMD has dubbed Graphics Core Next (GCN). The new architecture is based on the 28-nanometer process, and follows 40-nanometer Radeon HD 6000 series, which were launched mid-December last year.
That die shrink is the critical. By manufacturing GPUs on a smaller process, AMD is able to pack more transistors into a smaller space, reducing power consumption while improving performance. Thanks to the tighter fit afforded by the 28-nanometer process, the Radeon HD 7000 series has room for a whopping 4.3 billion transistors — the Radeon HD 6000 series had 2.6 billion. We'll see the difference the die shrink makes firsthand, once we're take a gander at testing results.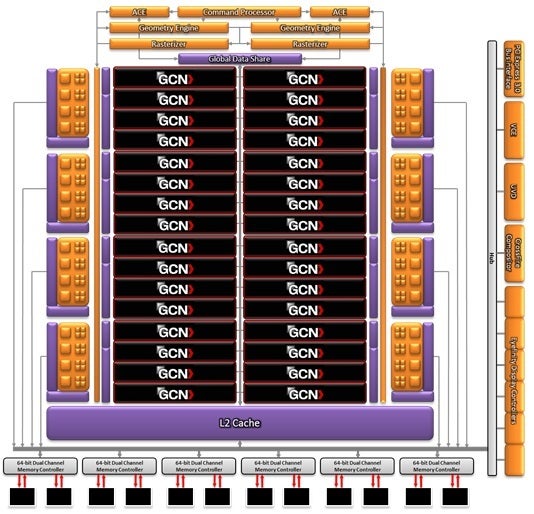 The 7900 series packs 32 clusters of GCN compute units, each behaving much like an individual CPU core. That means they can schedule their own tasks and manage workloads independently — AMD is focusing on versatility here, as these new cards are designed to be capable compute engines for non-gaming tasks. To that end, the Radeon HD 7900 series will also offer up to 768KB of read/write L2 cache, and amount we'd normally only see on proper CPUs.
Under the Hood
The card packs a worthy set of specs. Under the hood of the reference card are 3GB of DDR5 Memory, with a 384-bit memory bus. That's a lot of memory and bandwidth, to push a lot of data, and pixels back and forth – AMD is rolling quite a few new features into this launch, including support for 3D across three displays on a single card, so it'll need it. This card (and architecture) is also built with multiple-displays at heart. You'll find DVI, HDMI, and two mini-DisplayPort connectors. The card is theoretically capable of supporting a maximum of 6 displays with the aid of a DisplayPort 1.2 hub, though those haven't actually hit the market yet.
Why only 1 DVI port? It isn't needed. An HDMI to DVI adapter is bundled with the graphics card, if you'd like to keep using two DVI ports. There's also a mini-DisplayPort to DVI adapter, so you can use 3 DVI displays if you'd like, right out of the box. But AMD is betting that most users buying high end graphics cards will have also picked up monitors equipped with next-generation connectors.
The Dual Bios toggle switch we saw on the Radeon HD 6990 makes a welcome comeback. It toggles the card's bios between two modes. The first setting is unprotected, allowing you to tweak the overclocking settings with AMD's Overdrive software. The second setting locks the card at its factory defaults, if you'd rather play it safe.
There are quite a few changes in store with the new Radeon HD 7000 series, not the least of which is the new architecture.
New Software
AMD App Acceleration: Flexibility is key to AMD's strategies: cards like the Radeon HD 7970 will be aimed at gamers, but the 7000 series as a whole is meant to address a changing PC landscape.
Video editing applications like CyberLink's PowerDirector have long touted support for GPU acceleration to speed up workflow, by way of Nvidia's CUDA and AMD's Stream technologies. And media players like ArcSoft's Total Media Theater can make use of dedicated graphics hardware to improve playback for 3D Blu-ray movies, or when converting 2D media into 3D.
Web browsers are also baking in hardware acceleration, improving HTML5 performance, or Flash and Silverlight video playback. Even productivity apps like Microsoft PowerPoint will benefit from a GPU, offloading some of the image editing tasks from the CPU onto the graphics card to boost performance.
That said, if you're just using your PC to watch YouTube clips and edit PowerPoint presentations, you don't need to worry about making room in your budget for a $550 graphics card. But AMD is hoping to convince users who are fed up with poor integrated graphics performance that an inexpensive 7000 series GPU can put a bit extra oomph into their everyday tasks.
AMD Video Codec Engine (VCE): The Video Codec Engine built into the Radeon HD 7000 series GPU will provided dedicate hardware acceleration for media tasks. It's part of AMD's App Acceleration front, offering a multi-stream H .264 HD video encoder, and "faster than real-time" HD video encoding.
AMD PowerTune Technology: PowerTune was introduced back in the with the Radeon HD 6900 series, and it's been refined for the Radeon HD 7000 series. It's designed to operate much like AMD's Turbo Core, or Intel's Turbo Boost technologies. When the graphics card detects that it isn't operating at its maximum potential power threshold, it dynamically adjusts its clock speeds, to hit that power ceiling. Put simply, the card will automatically overclock itself while in use to make sure it's delivering the most performance it possibly can.
AMD ZeroCore Power Technology: ZeroCore is essentially PowerTune in reverse. When the card ins't in use, it dials down its energy usage. If you're sitting a static screen (e.g., reading this article), power consumption is low. When your computer has gone idle (say, you've stepped away to eat dinner), the card will shut itself off, drawing about 3W of power to maintain its PCI-E connection. When you get back to the PC, the card will spring back to life in a few milliseconds.
That's great, when you've got a single card in your machine. But if you're using multiple cards arranged in CrossFire, the extraneous cards can turn themselves off completely when you're not gaming. The card connected to your display stays alive , drawing as little as 15W of power. The rest will dial down to aforementioned 2 − 3W, ready to spring to life once you need them.
Eyefinity 2.0: AMD's Eyefinity technology makes a return, and it too is improved. A refresher: Eyefinity is AMD's multi-display technology, allowing you to drive multiple displays from a single card — the Radeon HD 7970 can support up to six. This isn't new — we saw similarly capabilities from the dual-GPU $700 Radeon HD 6990, or the Radeon HD 5870 Eyefinity 6 Edition, which was built with that exact configuration in mind. Enhancements on the usability end comes from support for custom resolutions, and improved bezel compensation, so you can adjust the layout of your displays should you have a jumble of mixed-resolution monitors.
Also new: AMD's HD3D technology now supports Eyefinity. That makes the Radeon HD 7970 the the first single-GPU graphics card capable of driving three 3D displays. Nvidia has offered support for three 3D displays with their 3D Vision Surround tech, but that requires at least two cards arranged in SLI, or the dual-GPU Nvidia GeForce GTX 590.
I've always had mixed feelings on Eyefinity, and that isn't about to change. AMD makes a few compelling arguments: buying three 24-inch monitors (at about $200 apiece) is still cheaper than buying a single 30-inch display (at or above $1000). But there's still the matter of desk space, spending $600 on displays, and thick bezels sitting between each display. Naturally, if cost, space, and bezels aren't an issue, more power (and pixels) to you.
Testing: Synthetic Benchmarks
We pitted the Radeon HD 7970 ($550) against AMD's previous single GPU champ, the Radeon HD 6970 ($250), and an EVGA GeForce GTX 580 Classified ($590), a 3GB variant of the GeForce GTDX 580. All tests were performed on an Intel Core i7-3960X CPU, equipped with 32GB of RAM and running on 64-bit Windows 7.
Unigine Heaven
Let's start with Unigine Heaven. It's a rather forward-looking benchmark built on a DirectX 11-based game engine that's currently in development. It's rather strenuous, packed with high detail levels, dynamic lighting and shadows, and lots of tessellation.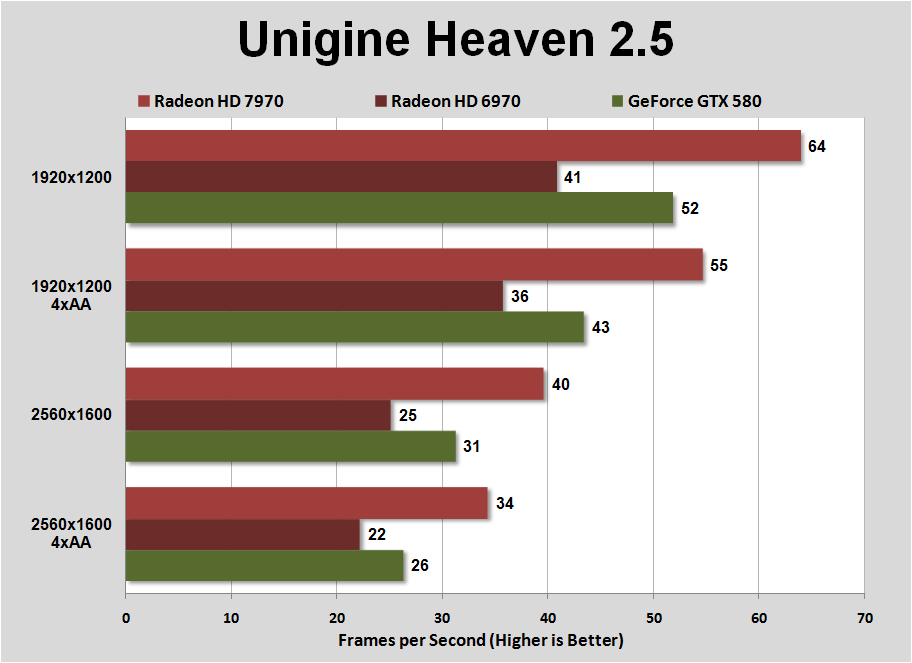 The results are pretty clear cut. The Radeon HD 7970 maintains a heady lead at every resolution and quality setting, with the Radeon HD 6970 sitting in last place.
3DMark 11
Next up is Futuremark's 3DMark 11. This one's an industry standard, and churns through a number of graphics and CPU intensive tests. It then assigns a score based on how the hardware performs. We were only interested in the GPU score, here.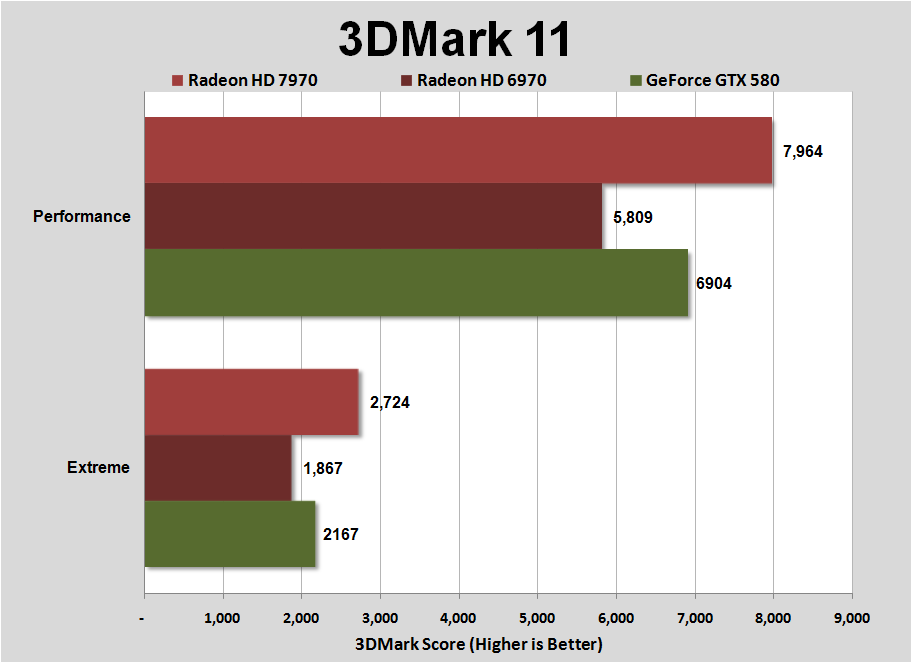 More of the same here. The Radeon HD 7970 maintains its lead, with a score that's 15% higher than the GeForce GTX 580 on the Performance setting, and 26% higher on the Extreme setting.
Crysis 2
The first of the "real" games we'll be testing is Crysis 2. In its heyday, the original Crysis brought the mightiest PCs to their knees. The game's engine and the technology running it have improved substantially since then, but Crysis 2 can still make make the most potent hardware sweat.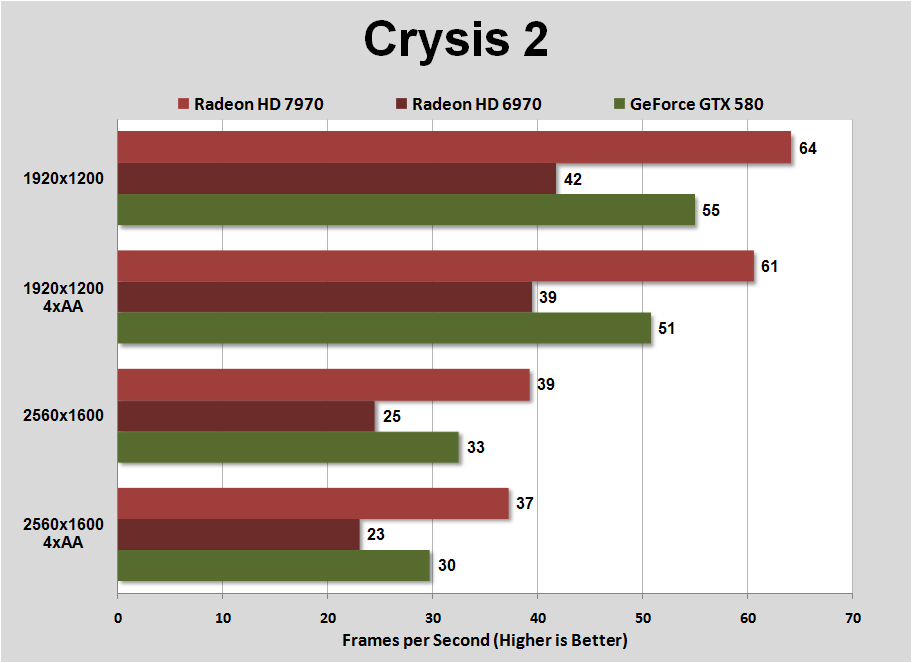 The Radeon HD 7970 maintains its lead over the GTX 580, albeit only by a handful of frames. That said, it's important to keep in mind that 7970 is about $40 – $50 cheaper than the card we tested.
Dirt 3
Next up is Codemaster's Dirt 3. This rally racer couples fast paced action with lush visuals. It's a little less demanding than the rest of our testing lineup, but still a demanding title, in its own right.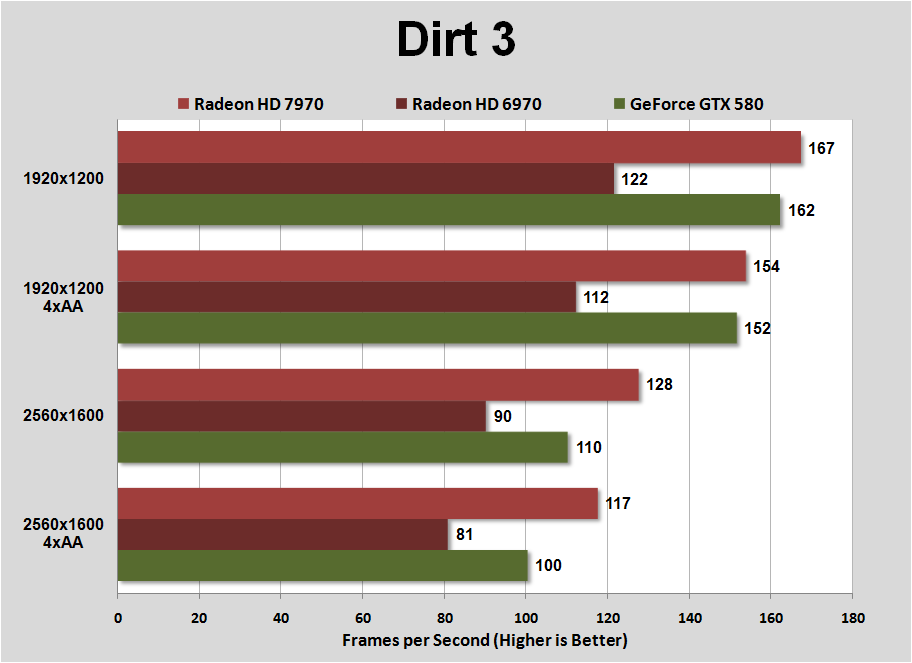 At the 1920-by-1200 resolution with anti-aliasing cranked up, the Radeon HD 7970's lead drops to a mere 2 frames per second. At 2560-by-1600 it pulls ahead by 17 frames, but remember that anything over 30 frames per second is considered playable, with 60 frames per second being something of a sweet spot. You aren't going to notice much once you've eclipsed the 100 frames per second mark, though it is a nod in the direction of future-proofing.
Metro 2033
Third on our list is the post-apocalyptic first person shooter, Metro 2033.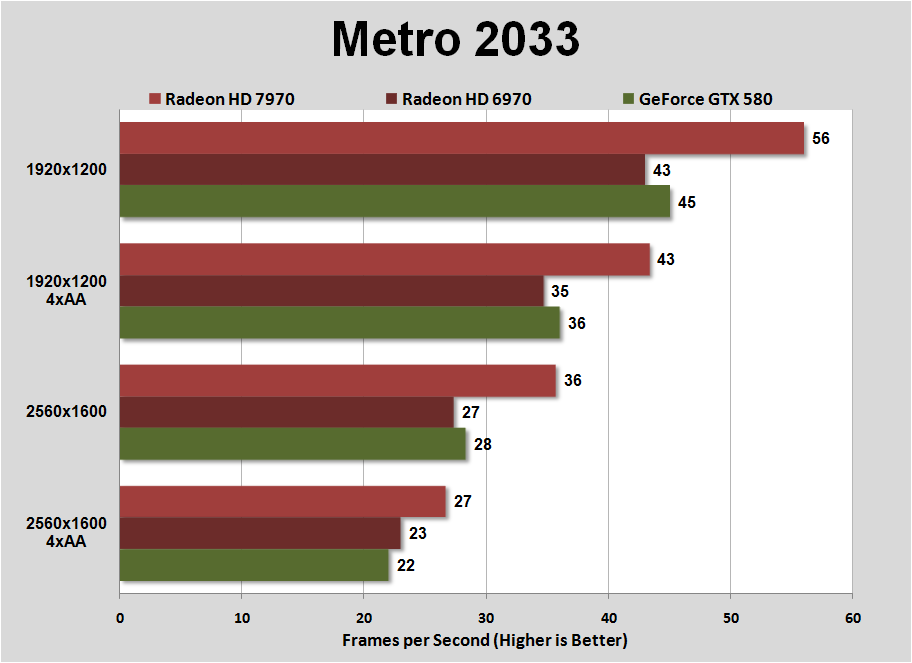 This one proved to be the most daunting of the bunch, with the GeForce GTX 580 barely pulling away from the Radeon HD 6970, much less it's new, faster sibling.
Just Cause 2
And finally, Just Cause 2. We're going with the "Concrete Jungle" test, which is the most strenuous of benchmarks.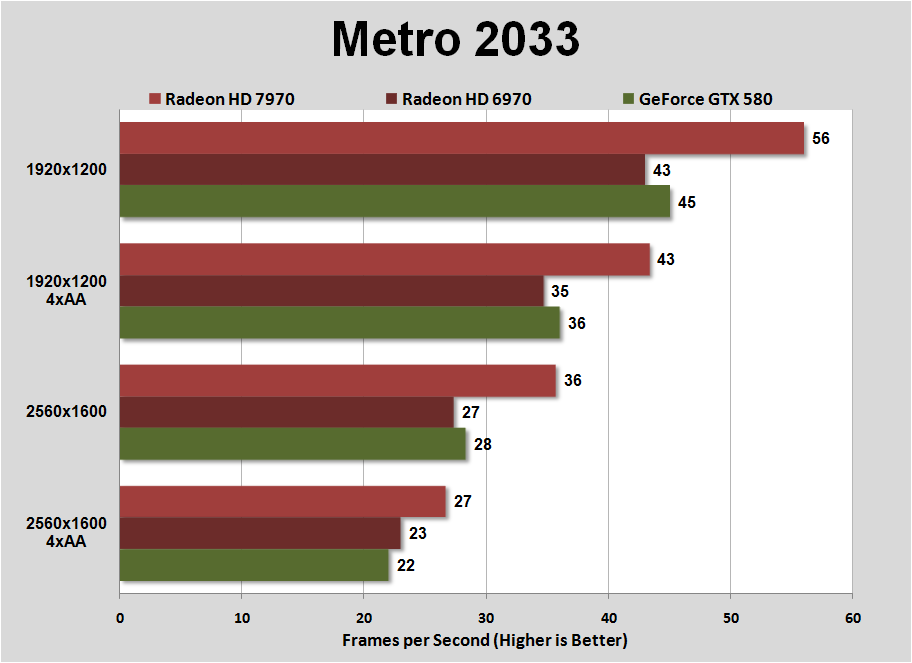 Starting to sound like a broken record here, but the results have been fairly consistent. The Radeon HD 7970 has maintained a consistent lead, outpacing the GeForce GTX 580 in every game we threw at it.
Value
We've seen how the cards stack up, performance wise. But is the Radeon HD 7970 a good value?
Well, yes.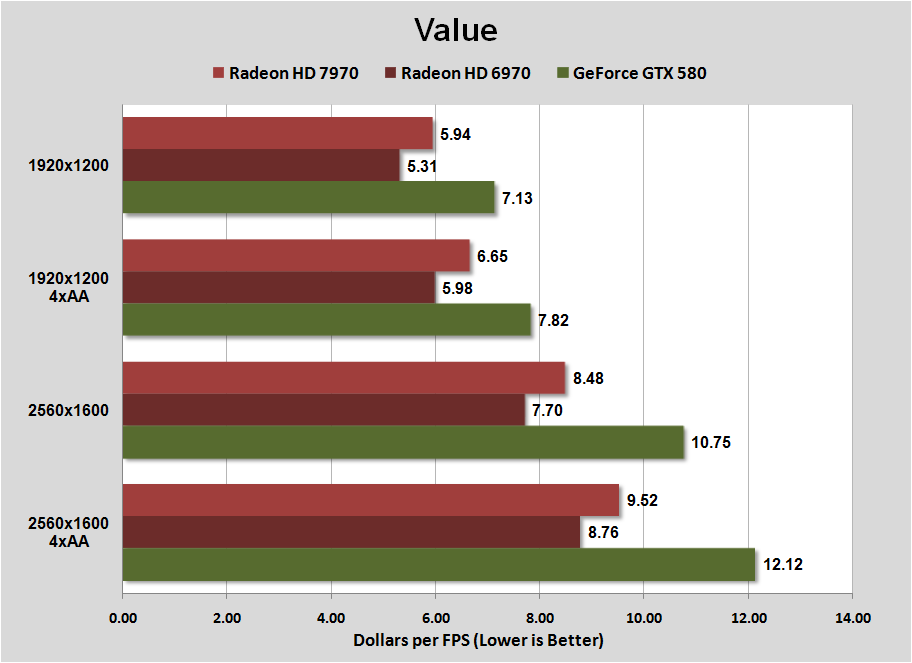 A good value at the high end, at least. To come up with our Dollar per frames-per-second metric, we compare the price of the card to the average results we saw in our testing. The $350 Radeon HD 6970 may ultimately lag behind the pack, but its performance was in line with the lower price tag. At the high end, the Radeon HD 7970 soundly trounces the $590 EVGA GeForce GTX 580 Classified. A standard GeForce GTX 580 would cost less, but would ultimately compete even less favorably.
Power Consumption
This is where the Radeon HD 7970 really shines. By shrinking down to the 28-nanometer process, AMD can lower the power draw of their GPUs a bit, without sacrificing performance.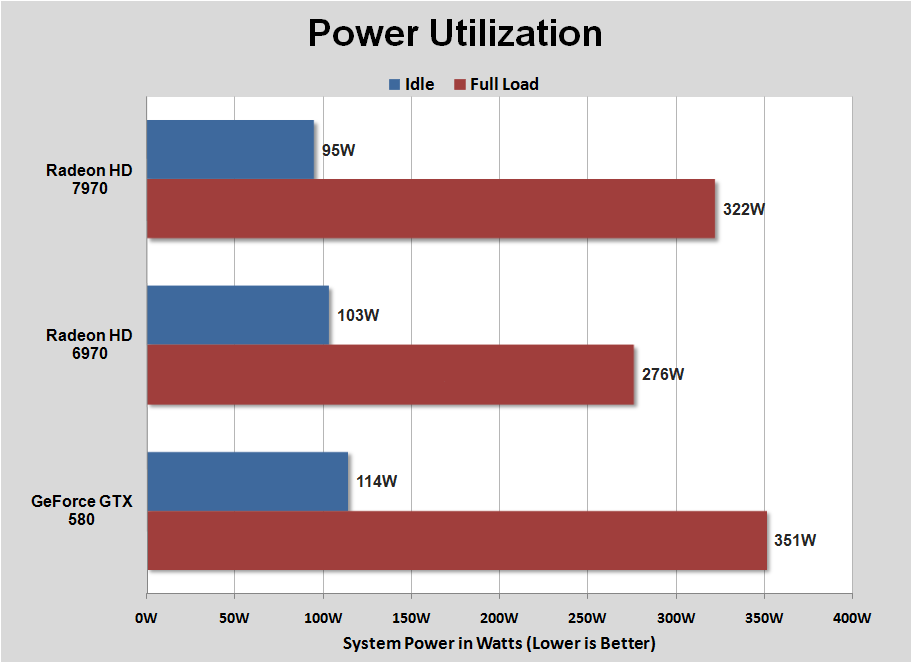 That the 6970 uses the least amount of power under load isn't too surprising, as it is less powerful card. But take a look at those idle numbers. Our testbed isn't the most energy-friendly around, packing 3GB of RAM and the Sandy Bridge Extreme Edition processor. Power measurements are taken directly from the wall, and factor in the entire machine. That 95W watts is impressive — in indicative of the work AMD has put into their ZeroCore tech.
Performance per Watt
Our final chart compares the power the card drew while under load against the average frames per second it earned on our games tests. This will give us an idea of a card's overall efficiency.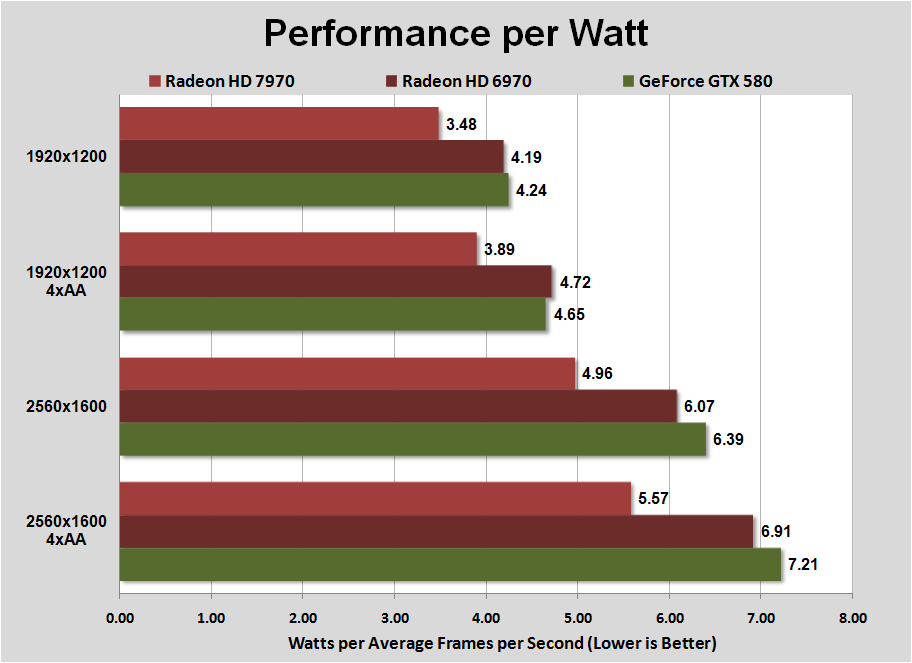 We're seeing the benefits of the die shrink directly here. The Radeon HD 7970 does more while using less power at every resolution and setting we tested.
The World's Fastest
The "world's fastest" single-GPU graphics card title has changed hands yet again. AMD's 7970 ousts the Nvidia GeForce GTX 580 by delivering better performance, drawing less power, and ultimately being more cost-effective. And that was against an EVGA GeForce GTX 580 Classified, a souped of variant of the standard GTX 580.
Nvidia is certain to have an answer to this card later on in the year. Just as certain as AMD is to have a more modestly priced variant built on the new architecture, poised at taking on the Nvidia GeForce GTX 570. However things shake out, with Ivy Bridge coming down the pipe in just a few months, it's an exciting time to be a serial upgrader.