At a Glance
Expert's Rating
Pros
Modernized graphics
Excellent editor
Faithful adaption
Our Verdict
Before I took an arrow to the knee, I was a Dungeon Master.
Introduced back in 1987, Dungeon Master is the granddaddy of action RPGs. Games from the classic Ultima Underworld to 2011's game of the year, Skyrim, bear a close familial resemblance to it and adopt liberally from the mechanics and innovations it introduced. Behind a deceptively simple real-time, first-person, step-based interface lie a game of substantial depth and intricate balance. Exposition is nearly nonexistent; the way forward is sketched out with cryptic three-word phrases that first seem to mock the player, but later reveal themselves as clever clues or prophecy. Combat is an addictive dance of mouse management, mnemonic skill, and party prowess. Few games have done it better. The main barrier to enjoying all this goodness is age. Dungeon Master Java (free) rejuvenates this venerable title, letting retro enthusiasts enjoy it on modern PCs.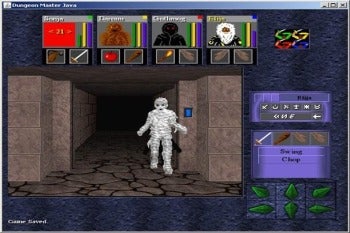 Playable PC versions of Dungeon Master are hard to come by and lack key features like stereo imaged sound or the Chaos Strikes Back sequel, which contained the game's most memorable levels. The graphics are also pretty rough to look at today, even for a retro experience. Dungeon Master Java takes care of all these problems and brings this classic into the twenty-first century with updated art and an impressive level editor that will having you designing dungeons in minutes.
Installing Dungeon Master Java is a drag-and-drop affair, requiring little beyond picking a directory and unzipping the file into it. Both Mac and PC files are included in the archive. There are separate Windows executables for the game and the editor, both of which run as standalone programs rather than browser-based Java apps. Version 1.4.2 or later of Java is required, but otherwise pretty much any PC with a supported OS will do, as system demands are modest.
What you get in return is a faithful recreation of the original Dungeon Master game with a graphic style that echoes the nostalgic charm of the early RPG days without inflicting the pain of the hardware-limited graphics of that era. Furthermore, all assets used in the engine are designed to be replaceable, so the game can recreate whatever environment you prefer. Several add-ons already exist, providing everything from custom anime portraits to tile sets from the classic SSI Eye of the Beholder RPGs. The same is true for sound effects, interface elements and even the title screen. Virtually every facet of the game experience is at your control. The most recent version adds a much needed scaling function that allows the game window to smoothly increase in size to meet modern resolution needs, along with an in game automap the novices will appreciate but purists will shun.
Gameplay includes the original Dungeon Master campaign along with a new dungeon by the game's author, a healthy serving of dungeon delving given the free price. The level editor, a paragon of simplicity and utility, has been the gateway to more content via a small but dedicated DM community who have recreated the famously difficult Chaos Strikes Back add-on and other lost gems, including Raven's first title, a Dungeon Master clone called Black Crypt. There's enough out there to keep you busy for quite a while.
People who played Dungeon Master back in the day remember it fondly for good reason–and the formula still has plenty to offer modern gamers. The spatial puzzles bring to mind Portal, with their ample drops, teleports, floor triggers and wall switches. Exploration requires keen observation, and it1s easy to get in over your head with enemies, a situation Dark Souls fans will find familiar. There1s something here for everyone. Until the highly anticipated Legend of Grimrock brings 3D acceleration and other top shelf technologies to the classic RPG table, Dungeon Master Java stands as the best way to experience this nearly forgotten style of gameplay. Highly recommended.
–Jim Norris