Sony said Wednesday that executive Kazuo Hirai, who runs the company's core consumer products division, will be promoted to CEO and president in April.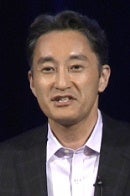 Hirai, a charismatic Sony veteran who has long been groomed to lead the company, will take over from current CEO Howard Stringer. Stringer will continue as chairman of the board of directors after the handover.
Hirai, 51, is widely credited with leading a turnaround in Sony's PlayStation business, after taking over just after the launch of the PlayStation 3 game console. He is fluent in English and will become the company's youngest leader since its founder, Akio Morita, according to local media reports. When Sony promoted Hirai to his current role from April of last year, Sony said its management changes were aimed at "empowering the next generation of Sony's management." It was Hirai who spoke for Sony, acknowledging the Playstation Network security problems last year.
The management shuffle comes a day before Sony is due to release its earnings for the October-December quarter. The company said in November it expects losses of well over a billion dollars in its current fiscal year through March, after saying several months earlier it could make a ¥60 billion (US$770 million) profit.
"The path we must take is clear: to drive the growth of our core electronics businesses — primarily digital imaging, smart mobile and game; to turn around the television business; and to accelerate the innovation that enables us to create new business domains," Hirai said in a news release announcing the leadership change.
Howard Stringer, a former television executive who was knighted in 2000, has led the company since 2005, when it was struggling to achieve profitability. He oversaw the cutting of about 10,000 jobs and slashed numerous product companies, while selling off company assets to raise cash and closing factories. The selection of a foreigner to lead a beloved Japanese company like Sony was seen as controversial domestically, and he was sometimes criticized for not spending enough time in Tokyo.
Japanese companies often make key personnel changes in April, when most begin their fiscal year.