Romanian authorities have arrested a 20-year-old man from the city of Timisoara on Monday under accusations that he hacked into computer systems belonging to NASA and the U.S. Department of Defense.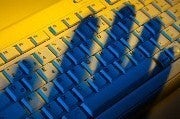 Manole Razvan Cernăianu was charged with unauthorized access to a computer system, transferring data from a computer system without authorization and causing serious disruptions to a computer system, the Romanian Directorate for Investigating Organized Crime and Terrorism (DIICOT) said in a statement.
Authorities claim that Cernăianu hacked into multiple online properties belonging to the U.S. government including a NASA server and a Pentagon website. The suspect also copied confidential information from those systems and published it on his personal blog, DIICOT said.
Romanian news agency Mediafax cited unnamed judicial sources according to whom Cernăianu, who is a computer science student, is believed to be the hacker known online as TinKode.
Over the last few years, TinKode has repeatedly exposed security holes in high-profile websites including those belonging to the U.S. Army, NASA, the U.K. Royal Navy, the European Space Agency, MySQL and Google.
Most of the time TinKode practiced full disclosure with the vulnerabilities he found. He didn't notify the affected parties in advance and included samples of the information stored on the vulnerable servers in his public advisories. However, sometimes he did report vulnerabilities in a responsible manner, which earned him a spot in Google's Security Hall of Fame.
TinKode said in the past that his intentions were never malicious in nature, but the authorities claim that his actions caused significant damage to the servers he targeted.
If found guilty, Cernăianu would become the third Romanian hacker convicted of breaking into NASA servers. Robert Butyka, 26, of Cluj-Napoca, known online as Iceman, and Victor Faur, 28, of Arad, known online as SirVic, received suspended prison sentences for similar actions.