At a Glance
Expert's Rating
Pros
Excellent voice quality
Significantly cheaper over long term than landline
Delivers voicemail messages via email
You can keep your existing phone number
Cons
Renewal costs $10 more than the original MagicJack
Comes with little, and poor, documentation
Our Verdict
The MagicJack Plus gives you unlimited, landline-quality home phone service on the cheap, but YMax still hasn't learned how to offer decent support.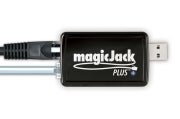 The YMax MagicJack Plus fixes the biggest issues we found in the original MagicJack. That telephony gadget offered solid, reliable phone service for a price that was hard to beat, but required you to leave the gizmo plugged into your PC–as well as to leave your PC running 24/7. What's more, YMax offered no option for transferring an existing number, so the MagicJack was best suited to second-line duty.
Like the competing NetTalk Duo, the MagicJack Plus can connect directly to your router for always-on phone service, thereby taking your PC out of the equation (though it can still plug into a computer, if you want). And YMax now lets you transfer your number, meaning the Plus can legitimately replace your landline.
Should it? From the price perspective alone, it remains an attractive proposition–even though the hardware and service costs have increased. For $70 (as of February 1, 2012) you get the unit itself and one year of unlimited local and long-distance calls to U.S. numbers. Each additional year costs $30. No landline service comes anywhere close. The key question, of course, is how the MagicJack Plus fares compared with landline service. Short answer: quite well.
The one-time setup process, which does require a PC, takes you through a seemingly endless catalog of choices and nickel-and-dime upgrade options. For example, you can select a vanity number (any combination of letters and/or numbers) for $10 annually, a Canadian number (also $10 annually), or a "free" number with your choice of area code and prefix. (Want to choose the last four digits from a list? That'll be $3 per year.)
You also have the option of tacking on five years' worth of service for $100, which works out to about $5 less per year than you'd pay renewing annually.
What I didn't see along the way (when I originally set up my MagicJack Plus) was a number-transfer option; to put those wheels in motion, I first had to sign in to my MagicJack account, a step that the included instructions didn't mention. The company fixed this oversight, however, in a subsequent update: Now users can transfer their number through the setup process up front, or do so later through their MagicJack account.
To use the Plus with your router, you'll need to plug its USB jack into the included AC adapter, and then find an outlet within a few feet of the router (you're limited by the length of the supplied ethernet cable).
I tested the unit with my Comcast broadband service, a Cisco Linksys E4200 router, and a Uniden multistation cordless phone system. It performed almost flawlessly, offering loud, clear audio that seemed on a par with that of a landline–as well as with that of MagicJack competitor Ooma Telo, my current home-phone service. One caller reported a "slight distortion" at her end, but that cleared up later in the call, and she said it was so minor she almost didn't mention it.
If you want to learn more about using the MagicJack Plus with your PC, I refer you to my review of the original MagicJack, as the features and operations are all but identical.
Regrettably, YMax's service hasn't improved since then. Support is still an online-only affair (though you can get live help from a Web agent), and the MagicJack site remains woefully confusing when it comes to getting answers and finding helpful links. For example, at the time I checked, the MagicJack.com home page didn't even offer a sign-in option for current MagicJack users to access their account. (The company has since resolved this problem, adding a login link at the top of the page.) Also, the call logs in my MagicJack portal were consistently empty, even though I'd made and received a number of calls.
Those gripes aside, MagicJack Plus offers a compelling home-phone alternative for anyone looking to ditch their landline. Of course, so does the NetTalk Duo, a virtually identical product that costs the same and comes with much better support–but lacks a number-porting option. If you want to keep your number, the Plus is the better pick.