At a Glance
Expert's Rating
Pros
Comprehensive search facility
Incredible collection of nonfiction books
Cons
Monthly rate high compared to competition
Not the best tool for specific questions
Our Verdict
Safari Books Online offers access to a huge catalog of books and videos about computers and technology for a fixed monthly rate.
One of the biggest challenges in distributing digital content is to make it easier for people to consume legally rather than illegally. When it comes to e-books, this gets even trickier; e-book files are much smaller than video or music files, so they can be downloaded much faster. Safari Bookshelf (various subscription plans, starting at $10/month) is a bid to make it easier, faster, and more productive to consume electronic books online legally rather than download them.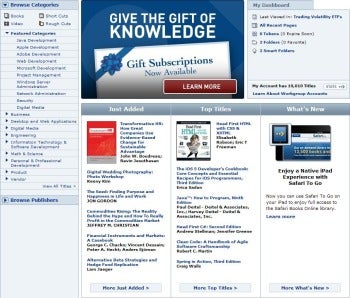 Safari Bookshelf (no relation to Apple's Web browser) is a subscription-based service, for which you can pay either monthly or yearly. When users first try to sign up, they are offered either unlimited access for $43 per month, or a 10-slot bookshelf for $20 per month. There is a third option, not shown on the page, offering a 5-slot bookshelf for $10.
"Slots" are basically places your virtual shelf has for books. Once you choose to read a book, it takes up one slot on your shelf, and must stay there for at least one month. Once that month elapses, you can swap it out for another book. Slots are a good way to offer the service at a reduced price, but they also make it much less useful.
The Unlimited Access plan does away with the concept of slots and lets you read any and all books, but you still must read them online, using a browser (Safari also offers an iPad app and a mobile-friendly version of the site). If you're more interested in downloading e-books for offline reading, both the unlimited and limited plans offer download "tokens." You get five tokens every month, which you can use to download chapters (a chapter usually costs one token). You can also buy extra tokens for $2 each.
The catalog of books offered can only be described as staggering. Safari Books Online hosts books by Apress, Adobe Press, Microsoft Publishing, O'Reilly, Sams, Wiley, and several other big-name publishers. Books span the gamut of programming, Web development, computer graphics (Photoshop and friends), and more. Not all books are computer-related: There are plenty of books about photography, for example. No fiction, though.
The search feature is well thought out, and is one of the best parts of using Safari Books Online. Imagine having to leaf through 19,000 books to find the information you need, or even to search through PDF files on your computer. Safari Books Online lets you do a simple text search, but you can then quickly refine results by category, publication year, author, and publisher. You can also search within the results, so you can search for "macro photography" first, and then search for "Photoshop" to further refine.
Safari Books Online is not only about published books, though. The Unlimited plan also provides access to many video courses, and to a section called "Rough Cuts," containing drafts of pre-published manuscripts–the bleeding edge of online publishing. When reading a Rough Cuts manuscript, a Feedback bar appears at the top of the screen letting you comment about the section you are reading. Comments are publicly visible, and cannot be edited or deleted once submitted, so weigh your words carefully.
Safari Books Online offers a great deal, but it is not a perfect service. For video courses, I still find Lynda.com superior, especially given the price ($25 per month, almost half of the Safari price). And if you are looking for pinpoint solutions to specific problems, nothing beats free tech Q&A website Stack Overflow.
The steep price Safari Books charges for the Unlimited plan only makes it worthwhile if you regularly buy more than two brand-new computer books every month–and I don't know anyone who does, really. Apart from this, Safari Books Online is an amazing service, and is probably the best way to read unlimited computer books online today. Highly recommended.
Note: The free trial lasts for ten days or 1000 page views, whichever comes first.
–Erez Zukerman