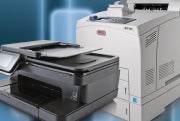 The good–and perhaps daunting–news about buying a workgroup printer is that you have a lot of choices. The standard monochrome laser or LED printer is now joined by color laser or LED models, and multifunction variants that offer scanning, faxing, and copying. Higher-end inkjets are trying to grab some of the action, too, claiming good speed, better image quality, and comparable or better costs for their consumables.
How do you decide? Knowing what you need your printer to do will guide you to the best candidates.
What Any Workgroup Printer Should Have
A workgroup printer is built for speed and capacity, typically ready to juggle the needs of 10 to 20 networked users. It will have its own processor; expandable memory; and a standard or optional hard drive for storing fonts and forms. Its monthly duty cycle will run into the tens of thousands of pages; note that this is an indication of durability rather than of how much you would actually print–usually a small fraction of that number.
Its paper trays will hold hundreds of pages, and its ink or toner cartridges will last for thousands of pages. Helpful paper-handling options include folding, collating, stapling, and optional media drawers or trays so you can have plain paper, letterhead, or envelopes all readily available. Workgroup printers also offer additional management tools such as software that can keep track of pages printed, or control which users can print in color.
1. Match the Printer to the Task and Volume
Knowing what your workgroup prints, and how much printing the members do, will drive your decision. If they print mostly text and spreadsheets, with little or no graphics, then a monochrome laser or LED printer will do the job. For simple graphics, a color laser or solid-ink printer would fit the bill. For photographs, an inkjet is the best bet, though certain color lasers, especially high-resolution models capable of 1200 dots per inch (dpi) rather than the more common 600 dpi, can be nearly as good. To minimize how many times users have to fill paper trays or change ink or toner cartridges, choose a printer that can hold enough paper for at least a few days' worth of printing, with toner cartridges that can last for at least a month.
[Related: Top 5 Monochrome Laser Printers]
2. Check Windows, Mac, and Linux Compatibility
If you use Macs, or do a lot of art-oriented projects, this will affect the kind of printer you'll need. Some printers oriented towards Windows users may offer less functionality or a worse user experience for Mac users. If you have PCs that are still running Windows Vista or earlier, or Linux, you'll also want to make sure that the printer includes drivers for those older operating systems. Go to the manufacturer's website to download drivers for the printer; if there are no drivers for the OSs you have, then find another printer.
3. Who Needs Color (and Who Doesn't)
Monochrome printing may not be exciting, but it's the bulk of printing for many businesses, and good monochrome printers are much less expensive than color models. They are also typically faster, less complex, easier to maintain, and require less expensive toner. If you need only small numbers of color prints at long intervals, an inkjet printer can handle lower volumes easily and won't break the budget. You may also want to consider using an outside service bureau such as Kinko's for occasional color print runs. If you regularly need lots of multicolor pages, consider a high-end inkjet or color laser.
[Related: Top 10 Color Laser Multifunctions, Top 10 Color Laser Printers]
4. Laser and LED Dominate, But Inkjet and Solid Ink Compete
If only a few users need to print color documents, or print in color only occasionally, it might be better to buy a higher-quality monochrome laser for most users, and an inkjet for the users that need color. Inkjets can produce color comparable to or better than even expensive color laser printers, and some can support the same sorts of print volumes as laser printers. Inkjets are best for photo-quality prints, while lasers and LED printers produce better text and solid graphics.
[Related: Should Your Office Buy an Inkjet or a Laser Printer?]
5. Single- vs. Multifunction: Balance Volume With Versatility
If you already have a copier, a fax machine, and a networked scanner, you may get better performance from a stand-alone printer. Multifunctions are versatile but naturally have to juggle more tasks, so they're better for lighter-volume use on all functions, or for mostly printing with light copy/scan/fax duties. Plus, one software installation will cover all the functions. On the downside, if a multifunction printer has a hardware problem, you may not be able to fax, copy, or scan either.
6. Research Costs and Reliability
Total cost of ownership (TCO) goes far beyond the purchase price of the printer–it includes the long-term need for replacing ink or toner, plus components such as a laser or LED's fuser or waste toner bottle. Gather all the pricing and page yields up front to make sure they will work with your print content and volume, and especially your budget.
PCWorld's printer reviews look at just ink or toner costs, giving you a head start. In addition, you should look at sites that provide customer reviews, and be sure to look at both high and low ratings; these can clue you in to potential problem areas, such as parts that break quickly, or software driver issues.
PCWorld senior editor Melissa Riofrio contributed to this story.