Apple is now the world's third-largest phone maker by shipments and market share, according to a study from the International Data Corporation (IDC). Only behind Nokia and Samsung, Apple took the third spot globally from LG, up from the fifth spot last quarter.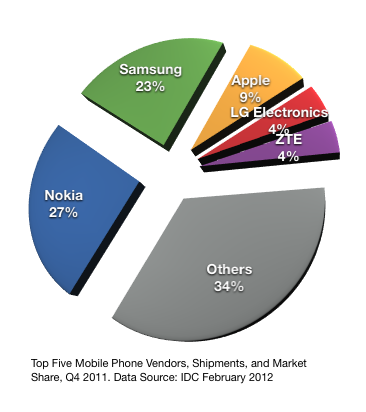 The iPhone 4S propelled Apple to third place in the fourth quarter of 2011, ahead of LG and Chinese vendor ZTE, with particularly strong sales in the U.S. and Japan, IDC said. Apple reported last month that it sold 37 million iPhones during the holiday quarter, a record for the company. Sales were up 128 percent from 2010. Apple's iPad is also the leader of the tablet market.
"The introduction of high-growth products such as the iPhone 4S, which shipped in the fourth quarter, bolstered smartphone growth," explained Kevin Restivo, senior research analyst with IDC. "Yet overall market growth fell to its lowest point since 3Q09 when the global economic recession was in full bloom," he added.
Nokia remains the leader in IDC's rankings for total mobile phone shipments, mainly because of broad distribution around the world and manufacturing capabilities, shipping more than 113 million phones in the fourth quarter alone. The study notes the feature phone market declined faster than anticipated, dragging market growth down to its lowest point in over two years. However, the worldwide mobile phone market grew 6.1 percent year over year, IDC said.
Samsung continued to hold the second spot in 2011, with record units shipped in a single quarter (97 million in the fourth quarter) and more than 300 million throughout the year. Samsung's growth was led by smartphone sales, particularly the high-end Galaxy range (SII, Note, Nexus) and less expensive models such as the Galaxy Ace. LG's shipments declined for the third consecutive quarter because of "aging feature phones and stalled smartphone volumes," the IDC research found.

IDC's figures include smartphones and feature phones. Looking at smartphone figures alone, a study last week found Apple was the number one smartphone vendor worldwide in the fourth quarter of 2011. However, on a yearlong basis, Strategy Analytics said Samsung had close to 20 percent share for the year, in comparison to Apple's 19 percent share.
Follow Daniel Ionescu and Today @ PCWorld on Twitter