The U.S. Immigration Customs Enforcement agency has shut down several websites that stream sports programming, a move that appears to be part of the agency's annual Super Bowl crackdown.
Sites affected by the ICE action include Firstrowsports.tv, Firstrowsports.com, Firstrowsports.net and Soccertvlive.net, according to TorrentFreak.
ICE was not immediately available for comment on the seizures.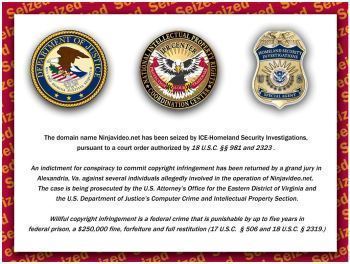 Visitors to the sites alleged by ICE to be involved in intellectual property piracy will see the agency's familiar chilling warning:"This domain name has been seized by ICE — Homeland Security Investigations."
This is the first time that ICE has targeted websites with the TV top level domain, TorrentFreak reported. The TV domain belongs to Tuvalu, an island nation located between Hawaii and Australia. Some media companies register domains there because they like the idea of having "TV" in their Web addresses.
Timing domain seizures to timely events has been a typical practice for ICE. For example, the agency mounted a massive sweep of websites on Cyber Monday last year. It also launched a domain name crackdown just before last year's Super Bowl.
ICE has been seizing the domain names of alleged intellectual property pirates since June 2010 through a program it calls Operation In Our Sites. The program has been criticized by civil liberties groups as a violation of free speech on the Web.
They argue that domains are being seized with nothing more than the rubber stamp of a magistrate, without any prior notice or adversarial process, leaving the authors of the sites with the burden of having to prove their innocence.
Follow freelance technology writer John P. Mello Jr. and Today@PCWorld on Twitter.