Fragmentation is often held up as one of Android's biggest problems, posing all kinds of challenges for developers and users alike.
While the release of Android 4.0 "Ice Cream Sandwich" and mandatory use of the "Holo" theme are both expected to reduce fragmentation of the Linux-based platform, the problem may not actually be as bad as many think to begin with.
That's according to analytics firm Localytics, which on Wednesday released a report suggesting that there really isn't much cause for concern.
"Although iOS developers only have two form factors to craft their applications for, the similarities of Android's most-used devices should make it less of a challenge to develop for than often thought," the report concludes.
96 Percent on Just Two Versions
To conduct its study, Localytics looked at the number of user sessions seen by apps running Localytics as their analytics provider. Usage-based data was then collected over the two-week period ending Jan. 22, 2012.
Perhaps most notable about Localytics' findings was that a full 73 percent of Android handset usage came from devices running a variant of Android 2.3, or Gingerbread. Not only that, but another 23 percent of Android user sessions were running some flavor of Android 2.2 "Froyo," Localytics found.
"Between the two, Android developers can be confident that they only need to actively target two Android OS builds in order to achieve 96 percent compatibility with the Android ecosystem," the report points out.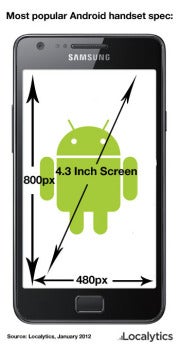 Dominant Hardware Specs
As for hardware, Localytics found considerable uniformity there as well.
A full 41 percent of all sessions came from Android handsets with 4.3-inch screens, it found, while 4-inch screens accounted for 22 percent, 3.2-inch screens made up 11 percent, and 3.7-inch screens contributed 9 percent.
The most often seen screen resolution, meanwhile, was 800 x 480 pixels, accounting for 62 percent of the study's sessions, Localytics says. Following in popularity were 480 x 320, accounting for 14 percent; 960 x 540, with 6 percent; 480 x 854, at 5 percent; and 320 x 240, making up 5 percent of the sessions Localytics studied.
Here, too, then, "with five options accounting for more than 90 percent of all Android app usage, the fragmentation is not particularly daunting," the report concludes.
Two Leading Tablet Specs
The world of Android tablets looks even more uniform, Localytics found.
Nearly three-quarters of all Android tablet usage is from devices with the same specs, the company's data suggests, with Amazon's Kindle Fire, Barnes and Noble's Nook, and Samsung's Galaxy Tab top of the list in popularity.
A full 74 percent of the Android tablets used are 7-inch devices with 1024 x 600 resolution, while 22 percent are 10.1-inch devices with 1280 x 800 resolutions.
"By taking into account two screen size/resolution combinations, developers should be able to easily reach nearly all of the Android tablet market," Localytics wrote.
Gingerbread also dominates on the tablet side, meanwhile, with a full 71 percent of Android tablets running it. Most of the others run some flavor of Android 3 "Honeycomb," the company found.