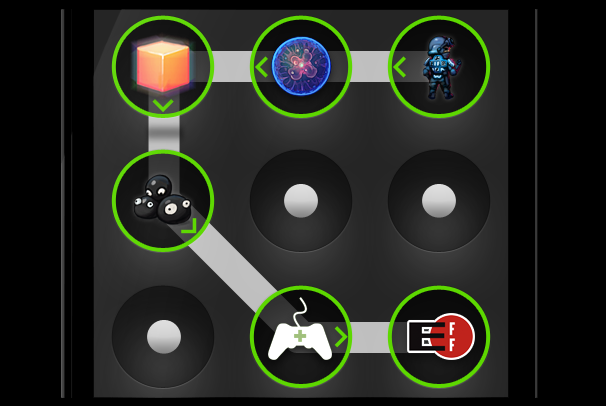 The celebrated Humble Indie Bundle has returned with a mobile twist: For the first time, the included games are available on not only Windows, Mac, and Linux platforms, but also Android devices. Anomaly: Warzone Earth, EDGE, and Osmos are available for whatever price you choose to pay, but you'll have to beat the average ($5.99 at the time of writing) to also receive World of Goo, as well as whatever bonus games, if any, are added later during the sale. As always, you determine how much of your payment goes directly to the game developers, the Humble Bundle website fund, and charity.
We've pointed out the many merits of the Humble Bundle before: With its pay-what-you-want offer for a pack of top-tier indie games, it represents terrific value, and a portion of your payment helps to fund Internet freedom fighters and the happiness of sick children. A decision to buy the Bundle even if you already own all of its contents represents a wise investment as you'll gain access to multi-platform and DRM-free copies for safekeeping.
You'll remember the innovative reverse tower-defense game Anomaly: Warzone Earth from our recent coverage when its Android port first hit the market. Osmos is a lush ambient game in which you play as a single-cell organism attempting to increase its mass by absorbing smaller creatures. The Newtonian laws of physics provide a striking risk/reward mechanism as you eject your own mass to propel yourself through orbital systems populated by other like-minded predators.
EDGE had a hard time of it when it debuted on iOS and was attacked by notorious trademark hound Tim Langdell, but those days are now behind developer Mobigame. It's a speedrunner's dream; as you roll your cube through abstract landscapes, you can delicately hang on adjacent walls for "edge time" that is subtracted from your overall performance. Finally, World of Goo is one of the most seminal indie games to have been produced for the PC. 2D Boy's delightful, wickedly creative physics-based puzzler won all kinds of happy accolades when it released in 2008, and its own pay-what-you-want sale a year later eventually served as the model for the Humble Indie Bundle.
Perhaps you'd like to see what the Humble Bundle games look like in action? Conveniently, they've made a trailer for that!
The sponsored non-profits who benefit from the sale of the Humble Indie Bundle include Child's Play, a charity that provides toys and games to children laid up in hospitals, and the Electronic Frontier Foundation, who work to protect freedom of speech, privacy, consumer rights, and other interests whenever they come under attack within the deep and murky legal swamps of the Internet. As you decide how much to support indie games during the 12 days remaining in the sale, keep in mind that you are also saving the world and stuff.
If for some wacky reason the addition of World of Goo doesn't tempt you to pay more than the average, at least try to refrain from paying so little as to cost the Bundlers money on your transaction. Yes, you can buy this Humble Bundle for a mere penny, but if you do that then bandwidth costs, Paypal fees, website upkeep, and so forth will result in a loss. So, you know; don't do that. Be a cool person!
Like this? You might also enjoy…