Though you might be tempted to ditch your office fax machine, you probably have to send out at least a few faxes every year. Windows lets you fax from the OS itself; but it requires you to use a landline that your small business may not want tied up, and it lacks security and mobile features that your business may need.
Luckily, a number of services can keep you covered even if you don't have a fax machine connected to an old telephone line. I took three Web fax services for a quick test drive. Here's how they fared.
FaxZero is a bare-bones fax service, with no options for receiving faxes or for faxing from your mobile devices. Nevertheless, as long as your fax is less than three pages long and you don't need to send more than five faxes a day, FaxZero is free and doesn't require any type of sign-up process. Just enter your contact information and the fax number you want to send to, and then upload the document you want to send. FaxZero should send your fax in a matter of minutes. When I tested the service with a two-page document, I received a confirmation e-mail about 3 minutes after I pressed Send that my fax was on its way. The fax arrived at its destination moments later.
If you plan to fax a lot of documents, however, FaxZero isn't your best option. It charges $2 for each fax that exceeds three pages in length and for each one beyond the company's limit of five free faxes per day. That isn't much of a burden if only a fax or two each week aren't free, but if you plan to use the service as a replacement to a regularly used fax machine, the overage fees can add up quickly.
MyFax is a feature-rich fax option that's great for users who need more than an occasional fax machine replacement. The company makes sending even international faxes by email easy; all you have to do is address your fax to @MyFax.com. When you sign up with MyFax you automatically get a fax number in your local area code for receiving incoming faxes. The service automatically converts faxes into PDF files and stores them on MyFaxCentral, the company's easy-to-navigate Web dashboard. When I sent my two-page test document from MyFaxCentral to myself, I received the fax along with a confirmation email message almost immediately after pressing Send.
If you don't want to use MyFax's site for some reason, you can arrange for all incoming faxes to go to your email address as well as to five other email addresses you choose. MyFax even has mobile apps available that let you send and receive faxes on the go via your Android or iOS smartphone.
MyFax's base plan, which costs $10 per month, lets you send 100 faxes a month and receive another 200 faxes. If you exceed those limits, the company charges 10 cents per page for the surplus faxes–but it also offers $20-per-month and $40-per-month plans that establish higher send and receive ceilings.
eFax offers many of the same features as MyFax. The two companies have almost identical sign-up procedures that involve first picking your free incoming fax number, then tying your account to an email address, and finally providing billing information. eFax's methodology for faxing by email is nearly identical to MyFax's. too. Both companies have Web-based dashboards that support faxing even to international numbers, and both offer Android and iOS mobile apps.
My test fax with eFax yielded a nearly instantaneous transmission plus an email message confirming that my fax had been sent.
Despite the similarities, eFax has some powerful features that MyFax doesn't. One is that eFax supports digital signatures, which can save you time and trouble if you often have to sign forms and return them via fax. The company also lets you digitally encrypt your faxes for an extra layer of SSL/PGP security over traditional faxing. That feature is particularly important if you work with sensitive information and must comply with regulations such as HIPAA, the Sarbanes-Oxley Act, or the Gramm-Leach-Bliley Act. eFax permanently archives all of your sent and received email messages, too (MyFax deletes older faxes after one month), and it offers storage for files as large as 1GB.
[Related: "Digital Signatures Let You Ditch That Old Fax Machine"]
On the other hand, to use advanced features such as digital signatures, you must download eFax's eFax Messaging Software (Windows or Mac version). The application is fairly easy to work with, but having to open it is a minor hassle. eFax is also significantly more expensive than MyFax: The lowest-level eFax Plus account costs $17 per month for 150 incoming and 150 outgoing faxes a month. The higher-volume rate is $20 per month for 200 incoming and 200 outgoing faxes, for $19.95 per month. A 10-cents-per-page overage fee kicks in if you exceed the limit on either plan.
The Verdict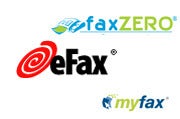 If you're in a hurry and just want to send occasional short faxes, FaxZero is your best option among these three. It's easy to use, it sends faxes quickly, and it's free. If you need to send longer faxes regularly, however, MyFax probably delivers the best bang for your buck. MyFax's $10-per-month price is significantly lower than eFax's for many of the same features. But if your business requires secure transmissions, eFax may be the way to go, since it allows encrypted faxing. (And as a bonus, it lets you store larger files.)